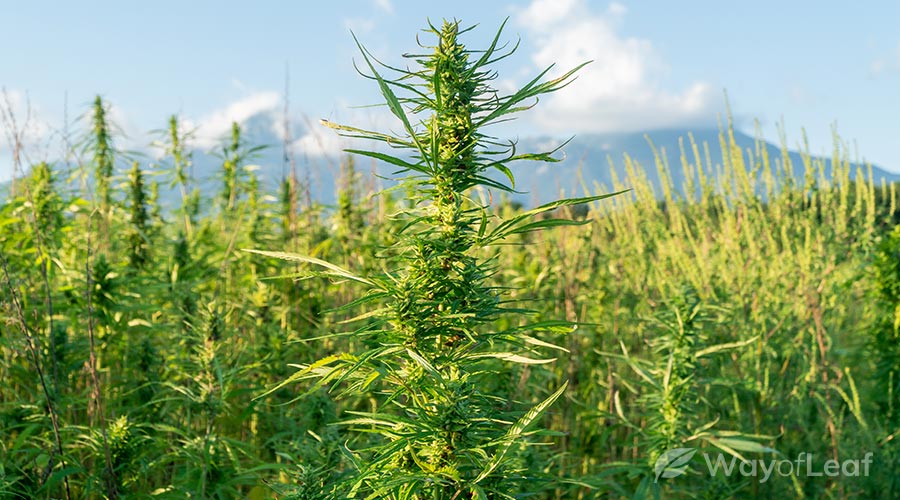 First of all, you need to gauge how mature the plants are. If they are in the vegetative stage, there is no point in taking any home. These plants are several months away from producing usable buds. If they are tall and producing nugs, you have the option of taking a few free samples home with you.
As it is untended, the buds aren't sticky, even though it will probably smell good! It is also important to note the location. There's a possibility that pesticide or toxin run-off will negatively impact the quality of the bud. Is it worth risking your health (and liberty) for a minor high that could damage your health?
The third option is to try and claim the plants. This is another decision fraught with legal jeopardy. If they are not ready to harvest, you have to tend to them. This is illegal in practically every state unless you have an exclusive grower's license. Even in legal states, growing is only allowed in a private space. Tending to these plants requires being outdoors in a public space, an illegal act.
Picture the scene. You are wandering down a highway when, suddenly, you see a group of plants that appear different to the rest. Your brain is telling you one thing, but you refuse to believe it is your lucky day. A sudden breeze arrives, causing these plants to sway majestically. You edge ever closer, the level of anticipation growing. YES! You have stumbled upon cannabis growing naturally in the wild. Time to light up! Or is it?
How to Find Marijuana Growing Naturally
The final, and most sensible option, is to admire the plants and go on your way. Take a few pictures to show your friends, but make sure you don't take any weed with you! If the plants are growing miles away from civilization, you can forget about them with a clear conscience.
The Administration created a Domestic Cannabis Eradication/Suppression Program in 1979. Federal funds were provided to get rid of marijuana across the United States. Within 12 years, the program claimed it removed well over 100 million wild weed plants. Most of them were in Nebraska and Indiana for the record. In contrast, only six million plants were cultivated in the same timeframe. In 2003, a report claimed that cultivated cannabis accounted for only 1% of marijuana destroyed under the program. The rest was feral.
Attempts to eradicate ditch weed have proven futile. The FDA's Herculean efforts only removed a fraction of what is growing wild. Remember, the seeds can lay dormant for a decade. Traipsing through fields and chopping down the growing cannabis plants doesn't solve the problem at all. In Indiana, a police spokesperson said: "You can eradicate ditch weed as well as you can eradicate dandelion."
How High Will I Get if I Decide to Smoke Wild Cannabis?
Take a trip to any Himalayan village, and you will likely see the plant thriving. Alternatively, travel to Pakistan, China, India, or any other nation in that region. In northern Pakistan, for example, cannabis bush can grow to the height of a one-story building! In Afghanistan, it is incredibly easy to grow marijuana. Indeed, it became the world's leading supplier of cannabis in 2010!
The issue only worsened in the years after World War II. The American Midwest was the scene of widespread industrial hemp cultivation. The goal was to use the versatile plant to aid in the war effort. Production shut down in the late 1950s, but the damage was done. Since then, the plant has re-seeded naturally and spread throughout states such as Minnesota, Iowa, Nebraska, Oklahoma, and Missouri. Cannabis activists have also deliberately planted seeds in secret.
Today, it's not as easy as taking a joyride around your town to find wild weed, but it can be done with a little hard work, patience, and perseverance. Along the side of the road in the country. In a long neglected open patch of field. Amongst wild plants growing in the mountainside. Cannabis can be found in the unlikeliest of places.
Weed grows naturally all over the world. From the cold-weather mountainside of the Himalayas to the warm and humid climes of Mexico and Jamaica, cannabis can survive under a variety of environments, although better in some than others.
Join tens of thousands of other students and alumni who have invested in a cannabis education. For an affordable price, you can gain access to up-to-date information about cannabis laws, research, and trends to make you a cannabis expert.

Where does weed grow naturally? Whether you're curious about its natural habitat or want to start hunting for wild weed, knowing this plant's favorite growing locations in the wild goes to show how hardy and widespread it has become.
Become a Cannabis Expert
Are you interested in learning more about the cannabis plant and its many benefits? Whether you want to learn how to grow cannabis for the first time, want to use medical cannabis to treat a medical condition, or want to start your own cannabis business, Cannabis Training University is here to help!
Today, it is widely used for its therapeutic benefits. But not all weed is the same. A feral form that grows in the wild has low traces of THC and won't get users high. So, where exactly does this feral weed grow that doesn't need careful tending? Let us find out.
In the 1950s, hemp production was halted, but by then, it's cultivation was rampant. Since then, its seeds have spread across great distances in the U.S.
How to Find Wild Weed
Ditchweed is thought to have spread from previously planted hemp back in the day. Since it hasn't been consciously planted, it doesn't have the high resin content of commercially-grown weed.
In the mid-twentieth century, this type of low-THC cannabis was widely grown in the Midwest of the United States. Industrial hemp is a variety of cannabis used for its fiber from its stalk for textiles, paper, clothing, rope, and more, primarily to help during World War II.