You can also use seaweed kelp extract to protect your marijuana plants while they are recovering from heat stress. This ensures the plants are protected from the possibility of contracting heat stress in the future.
On the other hand, you also don't want it to get too cold. When using a tent, the marijuana grow tent temperature should always be above 60ºF. Anything below that and the plant growth will be stunted, the plant may freeze, and it will eventually die. Sometimes you might experience a night or two where temperatures may fall below 50ºF, but as long as it is not prolonged, you don't need to worry. Keep in mind, outdoor cannabis may die if the temperature drops below 40ºF. Some plants can withstand the cold, but their yields will be less than that of a typical plant because of delayed growth.
When growing outdoors, the ideal temperature is a little cooler. Marijuana outdoor grow temperature is best when it is close to 60ºF.
If you are growing indoors using a tent, the marijuana grow tent temperature is a crucial factor in whether your plants merely survive or thrive. To create and maintain the ideal temperature in a grow tent, start by ensuring you have ventilation. Fans are a great way to do this in a grow tent, or you could use air conditioning in a larger grow room. Your focus should be on any heat that is near your plants since excessive heat can cause heat stress. Most of the time, growing lights are the main heat source to be concerned about.
Indoors
The good news is marijuana plants do not stop developing when there is too much heat. However, their growth will slow down. This is because too much heat affects the process of photosynthesis. The activities of the enzymes are also stunted, and the plants produce very few proteins. However, if it is exposed to heat for long durations, your plant might end up dying.
Near the end of your plant's life, during the late flowering stage, humidity levels should range between 30-40%. Purchase a hygrometer to monitor the humidity levels of your plant's environment.
In general, the best temperature to grow marijuana is about 68 degrees Fahrenheit during flowering, and 70-78 degrees Fahrenheit during the vegetative stage.
How to grow marijuana in extremely high temperatures
When outdoor marijuana plants are affected by heat stress, it can take several weeks to recover, so it is essential to prevent that stress in the first place. Luckily, protecting your outdoor cannabis plants from heat stress is almost the same method as protecting yourself – stay hydrated. Use micro-sprayers to cool your plants. This simple step can cool your plants by up to 30 degrees. You can also keep your roots cool by using fabric pots . This type of material allows your roots to breathe.
Soil is a crucial component when growing marijuana, so you should make sure that you have chosen the best soil for cannabis growth. We recommend a Pot for Pot's Superb Soil . It has the perfect balance of nutrients, perlite, and vermiculite to encourage proper soil pH, temperature, and drainage.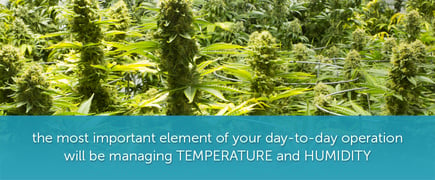 The increased humidity levels allow seedlings to take water in through the leaves while their root systems are developing.
On behalf of their customers, dispensaries are looking for consistent quality and a range of products. So while the opportunity to run a lucrative and stable growing business has increased dramatically, there is more and more pressure for growers to produce a consistently high-quality product in order to turn increased demand into increased dollars.
Late flowering (1-2 weeks before harvest)
Again borrowing from Royal Queen Seeds expertise, here's a how-to on drying your valuable crop:
To get started, you'll want to buy a hygrometer and a thermometer. With these tools, you can accurately monitor and then alter humidity and temperature conditions in an attempt to strive for repeatable quality levels time and time again.
The Four Stages of Plant Cycle
Depending on your lighting solution, season a specific crop is grown in (assuming year-around production), the outdoor air vented in (as it will vary in temperature and its own relative humidity), controlling temperature and humidity in your growing space will be one of the tougher challenges you will face on a day-to-day basis.
Ideal grow room temperature and humidity varies depending on the stage of plant life. Cloning requires higher temperature and humidity than vegetative growth and flowering plants have different ideal atmospheric conditions as well. In order to master the art of marijuana growing, dialing in the proper environment at the right time remains the most essential ingredient for success. So, what is the best grow room temperature and humidity level?
Measuring and Changing Temperature and Humidity
The best grow room temperature during the vegetative stage of growth is 70-78 degrees F. when the lights are on during the "daytime" and no more than 10-15 degrees cooler at "night" with a relative humidity of 45-55%. With these settings, your plants will best be able to convert light into energy for growth. This is the time when the plant puts on leaves and branches and expands it's root system throughout your growing medium. If it gets too cold or hot, growth stops and you eventually risk losing your plants altogether.
The Vegetative Stage: Best Grow Room Temperature
Garden temperature is a critical factor in photosynthesis and plant development.