Whether you are growing a single plant, or a massive garden, LED lights are some of the best options around.
Wattage also helps determine how far away you should keep your plants. Generally speaking, higher wattage lights need to be positioned further away from your plants because they can burn them. LED lights are an exception to this rule because they give off surprisingly less heat when compared to the other types of lighting with the same wattage.
Whether you are new to growing marijuana indoors, or a certified expert, you will certainly agree that the Roleadro LED panel is an excellent option because of its versatility. Depending on the configuration of your indoor grow space, the Roleadro LED panel can be used on its own or in combination with other lights. This light emits both blue spectrum light and red spectrum light, meaning your photoperiod plants will have all the light they need.
How do you maintain such a powerful light? Small inbuilt fans keep the lights cool and therefore eliminate the need for additional ventilation. Your plants will not suffer from light burn even though they are receiving plenty of light.
9. G8LED Mega LED Grow Light
However, with an expected service life of only 10,000 hours, you will need to replace these lights a lot more frequently than LEDs.
The good news, however, is that this light has plenty of options. If you purchase and install a dimmable ballast, you can dim the light as needed. That makes the Apollo MH Light suitable for photoperiod cannabis plants at various stages in their growth process.
The Apollo metal halide grow light is rated 400Watts and has 4,200 kelvins. This makes this the perfect light for the vegetative growth stage of photoperiod plants (but not relevant for growers of autoflowers). This light is best suited for those growing a larger number of plants. This is because it is a bit demanding to install and use since it doesn't come with the standard E26 base. It uses an E39 stand instead, so, you'll need to install a separate ballast.
Lighting Terms That you Should Know
The Sun System light emitting ceramic provides all the far frequencies of red light in addition to all the blue light, so your plants will have all the light needed to thrive and produce huge buds. This full spectrum is superior to what is provided by other lights currently on the market. The Sun System is also easy to set up and was designed to reduce the radiant heat generated by its arc tube.
The G8LED Mega LED Grow Light is perfect for indoor plants since it provides the full spectrum that they need, combined with massive coverage. It covers 18 square feet! For photoperiod plants, you can boost its performance during flowering by installing a few 90W red flower boosters. The buds that form will be huge and dense with cannabinoids.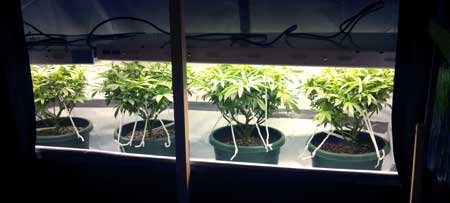 CFL grow lights are the twisty-looking bulbs you can find anywhere you normally buy light bulbs. They produce a great spectrum for growing cannabis and can be used in tiny spaces where no other grow light would fit such as the inside of a cabinet.
There is a larger size MH/HPS grow light available (1000W), but at that size it starts going outside the scope of a "hobbyist" grower as far as ease and yields. In addition to needing a lot of extra cooling which costs electricity, a 1000W HPS grow light is less efficient compared to a 600W grow light (as far as how much light is put out for electricity used). I think most hobbyist growers would be happier with a 600W, or even two 600W lights, over a 1000W
Cannabis plants under a T5 grow light – when plants are trained (like these ones in a Scrog setup) you can get pretty decent yields from fluorescents.
1.) Fluorescent Grow Lights