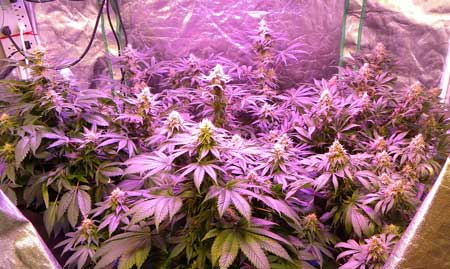 3.) LED Grow Lights
1.) Fluorescent Grow Lights
CFL Grow Lights
For growers who are looking to harvest 1/2 to 1 ounce of cannabis a month, LEDs may be your best choice. At this size, they are super low on electricity, run cool and need almost no setup! They get better yields than fluorescents but don't run as hot as an HPS of similar wattage.
For the many growers who are unable to cultivate cannabis outside in the free abundant sunshine, grow lights are necessary to successfully grow cannabis indoors. Grow lights take the place of the sun, and power the growth of your plants and their buds. Light is like "food" for your plants, so without a lot of bright light, even a healthy cannabis plant won't produce much bud at all.
Note: When shopping for LEDs, make sure they contain some amount of green or white (full spectrum) light. Plants grown without at least a tiny amount of green or white light are very prone to nutrient deficiencies and simply don't grow as well. Learn more about how light spectrums affect cannabis growth!
HIDs are very well suited to growing cannabis and very easy to use once they're set up. If your main goal is to get the highest yields possible, then HIDs are the way to go! However, they do require extra setup compared to the other grow lights because chances are you will need a fan to vent out heat from your grow space.
Fluorescent grow lights come in many different shapes and sizes, from twisty bulbs to long tubes. Fluorescents are popular because they make efficient and pleasant lighting for humans, and also work great for herb gardens and other types of low-key indoor gardening without using a lot of electricity.
The light from an HPS appears yellow, and is great for flowering plants because the light spectrum stimulates bud production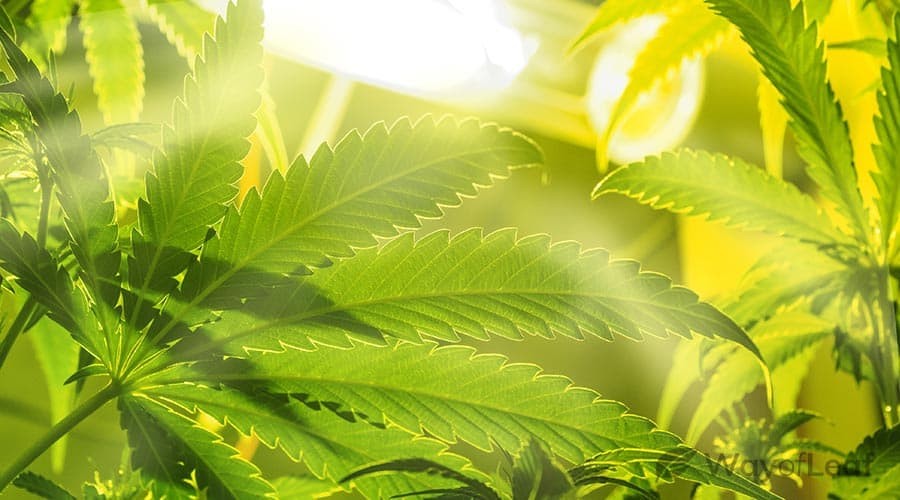 The uninitiated may believe that house lights are sufficient for cannabis plants. However, even if you use LED lighting, it is almost certainly too weak to help a marijuana crop in a grow room. Remember, your home's lights are designed for your eyes rather than plants. The light spectrum required to help us see is very different from what plants require for photosynthesis.
Why Should I Use Indoor Marijuana Grow Lights?
● They can require large boards of LEDs due to their relatively low power.
Growth Cycle Stage
Then again, if you have a grow space of less than five square feet, fluorescent light is enough when your plants are small. You can upgrade to a 250W HPS as the plants get larger. If you have space, an MH light for plants in the vegetative stage and HPS for the blooming phase works well. Using MH lighting throughout is fine but will have fewer flowers, more foliage, and a lower yield.