When setting up something like a small CFL closet grow, you might want as little light as possible. Each cannabis plant will require around 80 watts of light, with more being better. Using 2 40 watt CFL bulbs is sufficient for a mini CFL grow.
Using CFL bulbs for plants and producing marijuana on your own doesn't have to be complicated. CFL lights are the most beginner-friendly setup. They are also the best choice for small spaces. Beginners shouldn't grow too much for their first experience, meaning CFL lighting is a win-win for cannabis growing for beginners.
Since CFL lights are only optimal up to about 12 inches below the light, it's best to train your plants to grow horizontally instead of vertically. Topping your plants and tying them to grow more laterally is the best way to ensure your plant can grow large without being too tall for CFL full spectrum grow bulbs.
You can grow marijuana with CFL grow light bulbs in soil or hydroponically. Regardless of the growing medium, light needs remain the same.
How Many CFL Lights For One Plant?
Many novice cannabis growers do great with CFL setups during the vegetative stage but fail when the plants go to flower. If you want bigger, denser, more potent buds, you need maximal light intensity.
Growing cannabis with CFL lights is simple to set up and maintain. Each plant will require around 80 watts of light, although more can be better. Since CFL light bulbs for plant growth don't produce enough light exposure beyond around 12 inches, the lights will have to be adjustable with height to account for plant growth.
Let's take a look at CFL lights for growing weed. There are quite a few options for lighting when looking to grow cannabis indoors. CFL lightbulbs are becoming more popular because they are beginner-friendly and easy to use. The best CFL lights for growing weed will help you produce more marijuana in small spaces than you thought was possible. If you have a small space that you want to utilize for growing ganja, CFL lights may be the best option!
CFL Light Bulbs For Growing Weed
The CFL light spectrum isn't as important as the total wattage of the light produced when growing cannabis, but it doesn't hurt to use daylight simulating CFL bulbs during the growing stage and soft-white CFL bulbs during the flowering stage.
CFL is an acronym for compact fluorescent lighting. Compact fluorescent grow light setups are easy to build out because you can buy CFL grow bulbs at almost any store that sells light bulbs! They are just like fluorescent light bars seen in stores and offices but packed into a small lightbulb, allowing the user to reap the benefits of fluorescent light without a large lamp setup.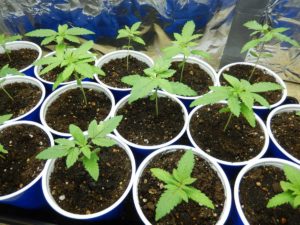 Watering Schedule
After having one successful grow under your belt, I guarantee that the whole process will start making more sense.
Setting up more than one bulb per socket can often be cheaper than buying an individual light socket for each light, especially if you buy online. It also is really convenient for arranging around your plant.
Spend about $300 and Harvest 2+ Ounces From One Plant!
These common bulbs are much more efficient than old-fashioned light bulbs (which can't be used to grow plants) and CFLs don't use much electricity or produce as much heat compared to some other grow lights.
After your first grow, you will only need to get more plants, more coco coir, and more nutrients which will significantly bring down the start-up costs for subsequent grows.
Don't be fooled just because it's easy. Even though I was a complete beginner when I started, I ended up getting 6.2 ounces of dried buds off my very first cannabis plant from my very first grow, which I grew using this system! (Pics below). That is an unusually lot of cannabis for a CFL grow, and took using a LOT of bulbs, but if you read through this whole tutorial you'll learn step-by-step how you can do it, too.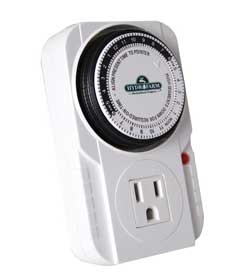 Don't Move Plants – Try to avoid moving the plants. With CFLs you want to train the plant to grow around the lights which is difficult if the plants move every day. If hand-watering your plant, set up the grow space so you can remove runoff water without having to move the plants.
About 2 weeks after the switch to 12/12, your plant will start making flowers. If it's a female plant it will start making buds, but if it's a male plant it will start making pollen sacs which growers don't want. It's important to remove male plants from the grow space right away because they can pollinate your female plant and give you seedy buds. Learn more about male and female cannabis plants.
Give Buds Intense Light – In the flowering stage, make sure that buds get direct access to intense light & keep CFLs as close to buds as possible without burning them (this will dramatically increase yields with CFLs). Pay close attention to making sure bulbs are close but not too close in the flowering stage.
An incredible example by grower iskraiskra
4.) Total Yields to Expect from CFLs (0.25g/watt)