Using feminized seeds can make it easier for home growers to cultivate strains like Russian Doll. (Courtesy of Kannabia)
That efficiency is key for medical cannabis patients and hobby growers. Since most cannabis regulations limit plant counts, growers cultivating a small crop of cannabis for personal use want to ensure they're getting the most out of their grow.
As a result, growing cannabis from regular seeds isn't very efficient—it's akin to running a bakery that has to throw out every second loaf of bread. Growers working from regular seeds have to account for the fact that roughly half of their plants could be males. While those plants are of some value to breeders, folks growing for flower won't find much to like in them, and too many male plants can spoil a grow.
Anyone who's ever savored a joint owes their enjoyment to the fruits of the cannabis plant, but moreover, to the female of the species. That's because only female cannabis plants produce the cannabinoid-rich flowers that deliver the flavors and effects consumers look for.
How Are Cannabis Seeds Feminized?
Once those plants are old enough, growers have to go to the trouble of actually determining their sex, monitoring each individual plant to ensure any males are removed before they can pollinate their female counterparts.
This is why many North American growers are turning to feminized seeds—cannabis seeds that carry only female genetics, and can be relied on to produce only female plants. By creatively applying technologies to seed feminization, modern breeders like Kannabia can ensure female genetics in seeds with a nearly 100% success rate.
"In our search to find new genetics, Kannabia paired us with their feminized Russian Doll seeds," say growers at Canada's BlueSky Organics. "Every seed germinated, and now that we are in the late vegetative stage, these plants have an extremely hardy trunk preparing themselves for some massive buds."
Male vs. Female Cannabis Plants
There are a few techniques that can produce reliably feminized seeds. One classic method is stressing out a healthy female plant by interrupting its light cycle during flowering. While that works to an extent, the more common and controlled method is to spray down female plants with a collodial silver or silver thiosulphate solution. This method makes it possible to control the sex of a plant without any genetic tinkering or modification.
If you have more questions about strains or seeds, keep digging through Leafly's resources. And to learn more about the variety of feminized seeds available to you, visit Kannabia's website to see its full line of feminized genetics, including strains like Diesel Glue and the award-winning Mataro Blue.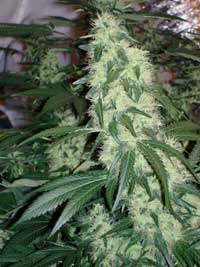 Having male plants can be an asset to a breeding program, but having to watch over and throw away half the plants can be a waste of time and space for growers who just want to grow their own supply of bud!
"Regular" (or non-feminized) seeds will produce about half male, and half female plants.
Cons of Feminized Seeds

You can purchase feminized cannabis seeds from reputable breeders. However, if there are none in your area, or if you fancy a challenge, you can try to make them at home. There is an element of luck involved when attempting DIY feminization. Therefore, don't expect a sky-high success rate. Let's take a look at some of the most commonly used feminization techniques.
It usually takes a little longer to spot a female plant after the start of the flowering stage. They begin by showing a wispy white hair or two where their buds will ultimately start forming. You should see these hairs where the main stem connects to the nodes. You can sometimes discover this initial sign if you keep the plant in the vegetative state for a little longer.
Pros of Feminizing Cannabis Seeds
The hermaphrodite was deliberately stressed via pruning or exposure to a reduced light cycle. The goal was to encourage it to produce male cannabis flowers. The pollen from these flowers was applied to the other female plant. The main issue with the technique was that the pollen-donating female plants would often turn intersexual. This is a trait inherited by any feminized seeds created using this method.
Intersexuality is a response to adverse growing conditions; in this situation, the plant is aware that it has a lower chance of reproduction. Poor growing conditions significantly reduce the plant's chances of completing a growing season. It becomes less likely that a plant of the opposite gender will grow close enough to fertilize.
Why You Should Grow from Feminized Cannabis Seeds
Feminized Bubba Kush seeds are now widely available online. Thanks to its easy growing, these feminized seeds are ideal for new growers.