Indoor s, Wedding Cake takes about 9 weeks to flower with some decent yields. It is a medium-sized plant that stretches somewhat in the early stages of flowering, and its buds are solid with a sweet, earthy aroma during flowering.
Wedding Cake S1 is a predominantly indica strain that is a cross between Girl Scout Cookies and Cherry Pie. It can achieve extremely high levels of THC, above 25%!
How Wedding Cake S1 Grows
The taste is sweet, earthy, and peppery with some detectable vanilla. As stated above, THC levels are very high indeed, giving an effect that some report as being relaxing, uplifting, and euphoric and making them happy and hungry.
Medically, this strain is helpful for those suffering from depression and stress and may aid pain relief, insomnia , and lack of appetite .
Wedding Cake S1 Taste, Smell, and Effect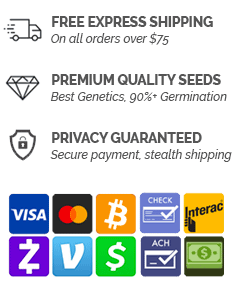 Wedding Cake is an impressive and multi-dimensional strain. It has a 25% THC level that induces an industrial-strength cerebral and body high, uplifting users and relaxing the body. The CBD percentage is rather low at .02%, however, the presence of its psychoactive compounds have significant therapeutic values.
The Wedding Cake terpene profile presents an array of tangy, earthy, and sweet floral tastes. Myrcene, limonene, pinene, and caryophyllene are the dominant terpenes in the Wedding Cake cannabis strain. Myrcene helps to elevate your mood and is responsible for triggering the giggles when using cannabis.
Wedding Cake delivers a sweet and tangy fragrance with hints of earthy vanilla and orange blossom flowers. Wedding Cake's sweetness is apparent at the first whiff. When properly cured, buds tend to smell vegetal: damp and mossy with a hint of citrus. It tastes sugary and rich on the exhale, with a subtle buttery mouthfeel that some liken to the taste of vanilla cake frosting. The taste is the perfect combo of cookie dough sweetness and a slice of sour cherry pie.
Wedding Cake is characterized by its large and multicolored flowers. The chunky, bulbous nuggets adhere in a dense, typical indica bud structure, with tightly curled leaves. The leaves are earthy green colored and the buds have an abundance of orange hairs. As the plants grow, they produce a forest green hue that gradually becomes darker and can begin to develop purple undertones.
Cannabinoids
Wedding Cake, aka Pink Cookies, is a strain that utilizes incredible genetics to yield a balanced high and dynamic taste. Wedding Cake is a cross between Girl Scout Cookies and Cherry Pie. Its family line oozes sweet and sour earthy scents with unmistakable vanilla aromas and an old school skunkyness. Wedding Cake is an indica dominant hybrid 60/40 that delivers an exceptionally sweet aromatic essence with a tremendous flavor and a powerful high.
Wedding cake cannabis strain is a real treat for the senses, producing beautifully pungent, sugar coated buds that turn purple under the right conditions. The flavor is best described as having a sweet taste with earthy undertones.
Wedding Cake's high starts quickly, making your eyelids feel heavy and creating a warm fuzzy feeling on your cheeks and forehead. About 30-40 minutes after smoking, Wedding Cake's indica side kicks in. Users may feel an increased euphoria and a pleasant heaviness that spreads down the spine and into the limbs. Wedding Cake's progressive waves of physical relaxation soothe both temporary and chronic aches and pains. In higher doses, it can bring relief for insomnia. Wedding Cake can be a potent appetite stimulant for those who have diminished hunger due to disease, medication, or chemotherapy.
Terpenes
Wedding Cake presents indica growth characteristics. This plant grows short and sturdy, and will thrive in many different environments. Pruning is crucial when cultivating Wedding Cake. The foliage is very dense and moisture can lurk inside the flowers then develop into mold or mildew. This hefty yielder matures after 7-9 weeks of flowering. Once ready for harvest, growers can expect 450 grams per plant indoors. Wedding Cake finishes budding around the second or third week of October, but some growers may begin to see fully mature flowers around the last few days of September. An outdoor harvest can produce 550-600 grams per plant.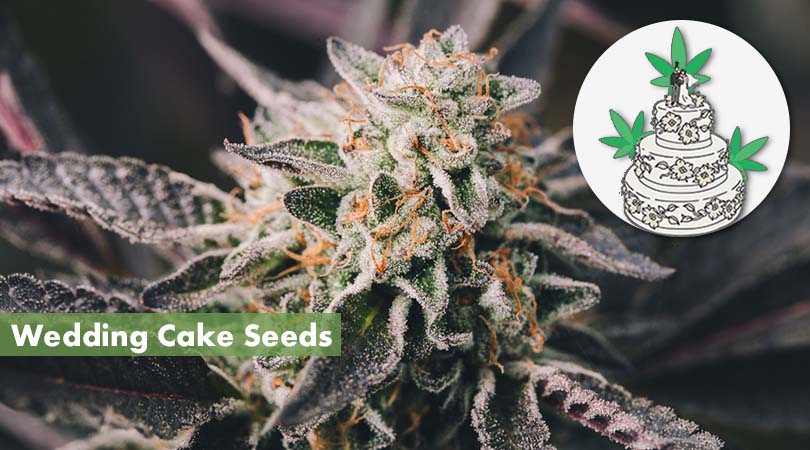 After getting married, people are often keen to report that the day on which it happened was their happiest ever.
Background
• Shipping Worldwide
• Including Free Seeds
• Credit Cards & Bitcoin Accepted
Medical Properties of Wedding Cake Seeds:
As an offshoot indica-dominant hybrid, growing Wedding Cake isn't exactly a piece of cake, though it isn't just for the experts, either.