You may need to put all of your plants in containers if you don't have great soil. Also, if you're unable to perform the heavy labor needed to dig holes and amend soil, containers may be the only way for you to grow your own cannabis outdoors.
Cannabis plants require a large amount of nutrients over their life cycle, mainly in the form of nitrogen, phosphorus, and potassium. How much you need to add to your plants will depend on the composition of your soil.
Relying on the power of the sun, you won't need to spend a ton of money on an outdoor grow. You'll need some soil, fertilizer, seeds or clones, and maybe a small greenhouse to get them started. You won't need to pay for electricity for lights, AC units, or dehumidifiers, and you can even collect rainwater.
For first-time growers, we recommend avoiding commercial fertilizers like long-release granular fertilizers. These can be used, but you need to have a good understanding of how they work and what your plants need.
Loam soils
Typically, outdoor growers will add amendments to soil when weed plants are transplanted outside. Outdoor amendments usually come in powder form that you mix in with soil.
Soil, at a basic level, is defined as the topmost layer of earth in which plants grow—it's a mixture of organic remains, clay, and rock particles. Cannabis plants thrive in soil rich with organic matter, and they need good drainage.
You can plant directly into the ground, using the preexisting soil, but you'll need to understand your soil's composition and amend it accordingly. If you go this route, we recommend getting your soil tested, which will minimize headaches, and it's easy and relatively inexpensive. A soil test will tell you the makeup and pH of your soil, any contaminants present, and will recommend materials and fertilizers to amend your soil.
Growing containers
You also want to consider privacy and security. A lot of people want to conceal their gardens from judgmental neighbors and potential thieves. Tall fences and large shrubs or trees are your best bet, unless you live in a secluded area. Also, most state laws require that you keep cannabis plants concealed from the street.
Balcony: This can be a great spot if it gets good light—ideally, it faces south—and will usually get good wind. However, you may need to cover your balcony from peeping neighbors.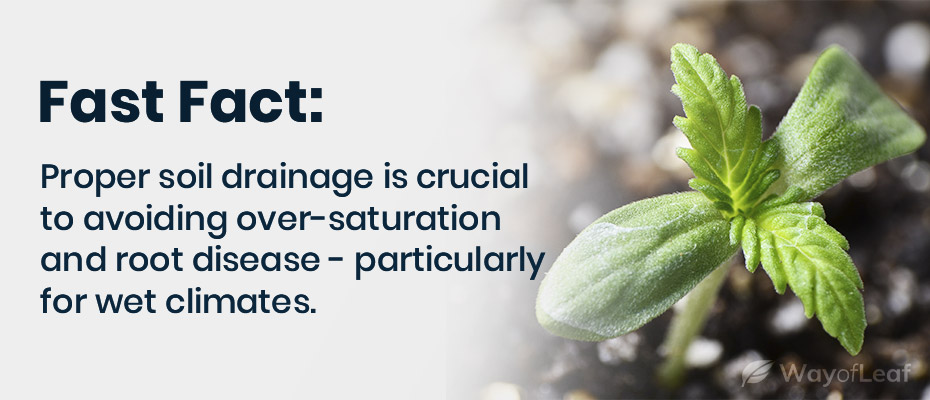 If you live in a warm climate, be wary of excessive heat damaging the roots. It is normal for container-grown pots of soil to exceed 90 degrees on a hot day. Always water the plants generously in the morning to ensure they don't dry out during sweltering afternoons.
When choosing the right soil, bear in mind that it is made up primarily of clay, sand, and silt. Your plants require slightly acidic soil with organic matter that has been adequately drained. Therefore, you have to test the soil if you intend to plant your cannabis directly in the earth.
Step #6: Select Carefully the Type of Container You Need
If this is your first outdoor grow, you may not realize that the surrounding soil is unsuitable for growth until you try and use it. If so, you have no choice but to use container gardens.
The main downside to using clones is that they produce small yields. If you want a more abundant harvest, you have to grow the clones indoors during the winter and early spring. Cloned plants never develop the thick central taproot that goes into the ground, which stabilizes the plant and consumes groundwater. As a result, they are vulnerable to drought and windy conditions.
Step #3: Buy the Best Soil for Your Plants
Composting is the way forward because it is cheap and relatively simple. You can also add all sorts of organic matter from fruit clippings to animal manure. Avoid using meat or animal fat as it will attract pests.