Start off with fertilizers that are inexpensive and readily available. Some release nutrients quickly and are easily used by the plant, while others take weeks or months to release usable nutrients. If done correctly, you can mix in a few of these products with your soil amendments to provide enough nutrients for the entire life of your plants. Most of these items can be purchased cheaply at your local nursery.
Most outdoor weed growers will either dig a hole and add fresh soil for the plant, or grow their weed in pots. This will allow you to better control the growing medium and the amount of nutrients your plants receive.
These are just some examples of amendments commonly used in different types of soils. Heavily amended soils will have long lists that break down all organic nutrients they contain. Some companies create soils that offer a great structure with base nutrients, but allow you to fill in the gaps as you desire.
Silty soil is the ideal growing medium. It's easy to work, warms quickly, holds moisture, has good drainage, and contains a lot of nutrients. The best silty soil is dark, crumbly loam—it's fertile and probably won't need any amending.
Growing containers
Soil, at a basic level, is defined as the topmost layer of earth in which plants grow—it's a mixture of organic remains, clay, and rock particles. Cannabis plants thrive in soil rich with organic matter, and they need good drainage.
The sky's the limit with outdoor plants—you can let them get as big and tall as you want, as long as they're manageable. One plant can potentially yield between a half-pound and full-pound of dried weed! Growing a handful of hands for yourself is more than enough. With an indoor grow, your space is a lot more restricted.
Some growers plant in containers on balconies or rooftops that are shielded from view, while some build heavy-gauge wire cages to keep thieves and animals at bay. Whatever you decide, think about how big you want your final plant to be—outdoor cannabis plants can grow to 10 feet tall or even more, depending on how much you let them go.
Types of outdoor grow spaces
If you're growing weed outdoors, it's great to find a community of cannabis growers in your area to see how others are growing in your specific climate. Local climates vary, so it can be helpful to see what strains thrive where you are, and also when other growers are popping seeds, harvesting, and more. You can also join online forums or Social media groups, but a great place to start is your local grow shop.
Sandy soil is easy to work, drains well, and warms quickly, but it doesn't hold nutrients well, especially in rainy environments. You'll want to dig large holes for your plants and add compost, peat moss, or coco coir, which will help bind the soil together.
Becoming intimately familiar with your local climate and seasons is one of the most important steps in producing high-quality outdoor marijuana. Before you grow, you'll need to know the ideal temperature your plants require in order to thrive, the best site, optimal timing of planting and harvesting, and the season's photoperiod — the amount and intensity of light available through the duration of the growing season.
Using Mother Nature to cultivate cannabis
Cannabis requires more nutrients than many of the other plants you may have in your garden. Quality soil contains enough organic nutrients to start the growth cycle, but as your cannabis plant grows and transitions into flowering, it may deplete the available nutrients and require additional fertilizers.
Image lightbox
There are also many advantages and disadvantages of using clones. They can often be found at your local dispensary, are from a proven genetic lineage, and typically do well outdoors, making them the perfect choice for inexperienced growers. On the other hand, clones develop a fibrous root system, as opposed to the deep taproots that seeds develop. Fibrous root systems can reduce the plant's ability to deal with environmental stress and predatory insects.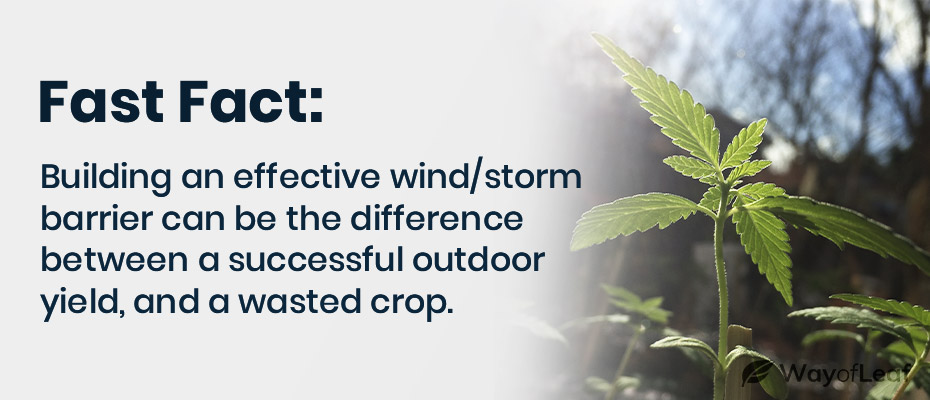 For outdoor growers, it is best if you skip commercial fertilizers and focus on organic fertilizers. You should add it to the soil before planting and throughout the growth cycle. Natural options include:
However, once the temperature goes below 42 degrees Fahrenheit, most varieties of cannabis will be damaged quickly. If excessively cold temperatures are a problem, use protection such as cold frames, hot caps, or cloches.
Different Types of Soil
When growing cannabis outdoors, you have to realize that, while weed is reasonably adaptable to different weather conditions, it is still vulnerable to temperature extremes.
Step #8: Choose the Right Genetics
Plants grown from seed offer larger yields and are more robust in the face of inclement weather conditions. You can plant these seeds in the garden in the spring, even if it is still cold and wet outside. Another option is to begin the growing process indoors, but they have to be hardened off eventually before they are transplanted.