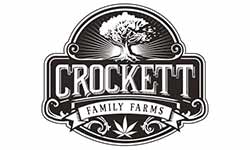 Crockett Family Farms is owned and operated by a master breeder called – you guessed it – Crockett. Crockett is a long time personal friend of Don and Aaron, the founders of DNA Genetics. Indeed, it was Crockett who first bred the all-conquering Tangie cannabis strain. He presented it to the DNA guys and the rest is history. Tangie won virtually every industry competition it was entered into, and is the only strain we can remember that has ever won 1 st and 2 nd place in the same category (Best Sativa) when Crockett's cut clinched gold ahead of the DNA Genetics version at the High Times Cannabis Cup in Amsterdam.
In short, Crockett is a breeder of rare skill and ability and these cannabis seeds are as good as it gets. They are certain to be popular with legally operating growers and discerning collectors of world-class cannabis genetics.
Sour Strawberries cannabis seeds by Crockett Family Farms is a new release from this exclusive American seed company – the creator of Tangie!
Suitable for indoor or outdoor cultivation in any legal climate, Sour Strawberries is a hybrid cannabis strain with traits leaning slightly towards Indica dominance. As the name suggests, she is derived from a cross of Strawberry Banana x Sour Chemdog and Crockett's selection process has managed to harness the very best attributes of both parent strains.
Sour Strawberries has a terpene profile to match her moniker: sweet overripe fruit and sour fuel combine in harmony for a delicious dank aroma. Effects are more in line with the Indica genetics – a relaxing, calming strain for later evenings.
Sour Strawberries flowers in a standard 8-11 weeks and legally-permitted growers can look forward to stable, uniform plants that yield medium-sized harvests. Sour Strawberries is an ideal choice for flavour freaks and extraction artists thanks to her over-the-top resin production which leaves a frosty coating of trichomes across the canopy.
Sour Strawberries is available now from PureSativa in packs of 12 regular seeds.
Sour Strawberry cannabis is generally found to have around 20% to 22%, but many individual samples have been tested as having upwards of 25% THC. Considering Sour Strawberry is well known for the intensity of its high, it only fits that it has such a distinctly high THC content.
Finally, though this is rather rare, some people use Sour Strawberry to help relieve pain resulting from eye pressure. Because of the excessive quantity of THC within this strain, it is excellent at helping lower your blood pressure and relieve the pain and discomfort caused by eye conditions like glaucoma.
Additionally, the deeply rich and restful sleep that this strain induces at the end of the high is perfect for treating insomnia, which is the other major condition that this strain is well known for helping.
THC Content – Highest Test
This means that you need to try and find it online or journey all the way to California and find a growing shop that specializes in Strawberry strains.
What about its actual aroma and flavor, though? Why are its characteristics so famed?
Medical Benefits of the Sour Strawberry Strain
If you do manage to get lucky and find some seeds, rest assured that you can grow it either indoors or outdoors, though these methods provide different yields.
Your body will relax all over, lending you an intense sensation of feeling both calm and tranquil, while at the same time uplifted and ready to take on anything.