Also consider humidity. Depending on the stage of growth, pot plants generally like relative humidity from 40% to 70%. Conditions that are too humid can lead to disease, molds and fungus. Extremely dry conditions can retard the growth of your pot plants.
Water is a crucial element of life, and pot plants are no exception. They need adequate amounts to thrive. Growing plants inside, you will need to provide a steady supply of just the right amount of H2O. You could hand-water with a hose or a bucket, but that is a time-consuming and inefficient process. A good drip irrigation system can deliver just the right amount of water to each of your plants efficiently and reliably.
Whether you want to raise cannabis commercially for profit or are looking to grow some bud for recreational fun or medical marijuana for good health, setting up and using a grow room offers lots of advantages. Unlike growing marijuana outdoors, raising it indoors in a grow room allows you to control all the crucial conditions that affect its growth, like temperature, light, nutrients and water. In addition, growing weed indoors will keep it away from destructive four-legged pests like rabbits and deer who may want your crop.
Pot plants need plenty of sun to grow too. But indoors they will be shielded from Old Sol. To substitute for the sun, a wide choice of grow lights is available on the market, making it easy to meet your growing needs and your budget.
How to Get Sunlight & Fertilizer for Indoor Cannabis Plants
You will also want to be sure to provide your plants just the right amount of fertilizer. Many commercial fertilizers specifically formulated for cannabis are on the market. You can also mix your own with fertilizers high in nitrogen, phosphorus and potassium. If you do have a drip system set up, fertilizer injectors will help you as well.
Just like people, plants do their best in a particular temperature range. Generally, pot plants in their vegetative stage prefer a temperature in a range from about 68 to about 77 degrees Fahrenheit. When they are flowering, cannabis plants like a range of about 65 to 85 degrees Fahrenheit. They can live in lower and higher temperature, but since you can control the heat simply indoors, why not give them what they want for maximum growth and potency?
If you need to increase the temperature, you can use a variety of traditional heating options, including electric, gas and other sorts of heaters typically used in homes or commercial buildings. Heat lamps and insulation are other possibilities, while heat mats underneath containers can warm the soil. In larger spaces, a fan can help circulate warm air so all plants can benefit from it equally.
Grow Room Tips for Cannabis Growing
To help you get the most out of your pot-growing efforts, DripWorks has put together some basic tips to help you achieve the ideal grow room conditions for growing cannabis indoors. Whether you are growing one marijuana plant or a thousand, these ideas for perfect grow room conditions should help you get the most out of your efforts.
You can buy all the parts necessary for a drip system individually and assemble them yourself, but drip irrigation kits offer an easier and more economical option. They give you everything you need and can be assembled in as little as a few hours. By adding an automatic timer, you can even ensure your plants regular watering when you are away.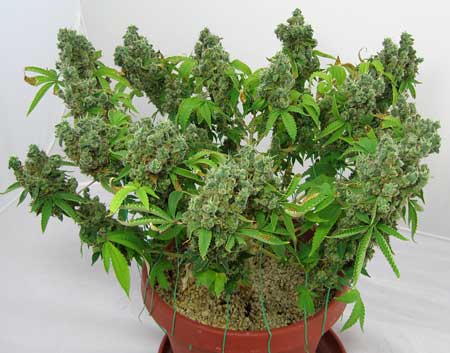 Recommended short photoperiod strains
Here's another example showing how pot size makes a difference to plant size. These plants were all germinated at the same time in Rapid Rooters. Right before this picture I planted some of the seedlings in 3-gallon pots, and the others in solo cups. They were all about the same size at this point.
Quick Summary (how to keep plants small without sacrificing yields)
The plant was less than 1′ tall at harvest yet produced 1.5 ounces of bud. CFLs can produce good yields with small plants, but CFL bulbs that are big (or a lot of small CFLs) get hot and expensive. If you have space, I recommend upgrading to more efficient grow lights than CFLs.
2.) Grow Setup
"Top" your plants when they're 3-4 weeks old
If you can't afford both MH and HPS bulbs, start with HPS as they deliver more light per watt. Magnetic ballasts are cheaper than digital ballasts, but run hotter, are less efficient, and harder on your bulbs. Digital ballasts are generally a better option, but are more expensive. Beware of cheap digital ballasts, as they are often not well shielded and can create electromagnetic interference that will affect radio and WiFi signals.
Lights
You can let your plants get as big as you want, and can control when they flower and when you harvest, and you can start another batch right away or whenever you want. You can grow any time of year, even straight through winter or summer, and you'll get consistent crops each time.
High-quality weed
You can connect a controller to fans, dehumidifiers, humidifiers, heaters, or air conditioners, and set thresholds whereby each device will power on and off based on your ideal environmental settings. Some units run autonomously, making changes based on set parameters, while others allow you to control each element via an app on a phone, tablet, or computer.