Loud Scout, as far as genetics are concerned, is Girl Scout Cookies x Platinum OG. We have four phenotypes that we're working with. And, uh, the first phenotype is the one that won the Cup.
Do you know something more about Loud Seeds' Loud Scout? Please help to make this database better and upload/connect your information here!
Loud Scout Lineage / Genealogy
Loud Scout is a mostly indica variety from Loud Seeds and can be cultivated indoors and outdoors . Loud Seeds' Loud Scout is a THC dominant variety and is/was only available as feminized seeds.
You have grown Loud Scout together with another variety? Please fill out our Strain VS. Strain direct comparisation form!
Upload your info about this strain here:
The winner of the 2012 High Times Cannabis Cup for hybrids.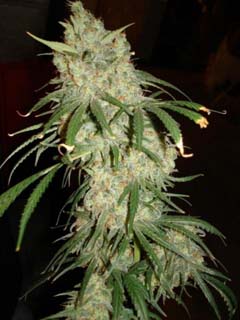 This mistress packs a capturing and vigorous high that will keep you buzzing and blissful. A pleasant and motivational sativa, the Truly Fruity helps increase awareness and consciousness and heightens any experience, including tantric sex and appetite for foods. The selected Skunk #1 has been worked on for years and injects raw power and faster finishing times, while the BC Grapefruit delivers a titillating flavour to smile about. The BC Bud Depot 2010 Sativa Cup entry at the High Times Cannabis Cup in Amsterdam, one small taste of this frosted beauty will make you happy for growing her.
BC Rockstar (aka Rockstar Kush) (Rockstar x Bubba Kush)
BC Blueberry is a mostly Indica strain, that dates back to the late 1970's in British Columbia. A large producer under optimum conditions, this dense and stout plant with red, purple and finally blue hues usually cures to a lavender blue. The finished product has a very fruity aroma and taste of blueberry. Winner of a 2nd place Cannabis Cup in the Private Growers Category at the 2011 Treating Yourself Medical Cup in Toronto!
Indica/ Sativa Hybrid
Flowering Time: 8 weeks
God's Gift (Grandaddy Purps x OG Kush)
Chem Fire (Chem Dawg D x Fire OG)
CBD God Bud (Isolated Pink Pistil High CBD God x Harlequin BX4)
One of British Columbia's hottest new strains renowned for its excellent medical qualities. This high yielding dank indica makes rolling a dream with trichome coated buds that release skunky and kushy undertones when broken. It also definitely makes a big entrance. The indica comes through almost immediately with an expanding smoke, but levels out into very relaxing effects, and isn't too overwhelming after the initial peak. A great appetite stimulant and a huge winner for anyone dealing with pain – especially because its possible to concentrate if required. A 2nd Place 2012 Cannabis Cup Winner in the hybrid category.
90% Indica / 10% Sativa
Flowering Time:Indoor: 6-7 weeks / Outdoor: Early September
Flavour:Sweet candy taste
Chem Scout marijuana seeds do very little to change your natural state other than a boost to your brain function. It's similar to having a cup of coffee in the morning but without the jitters and anxiety. This fast-acting indica-dominant hybrid makes users more aware of their surroundings while providing a touch of euphoria and mental clarity. Soon after, users notice relaxation wash over them as they prepare to settle into couchlock. This is when all energy levels decrease and you become lazy and lethargic.
The early stages of Chem Scout marijuana seeds feel uplifting, euphoric, and productive. It boosts cerebral function in the beginning. But once this indica-dominant hybrid has a chance to settle, that energy suddenly vanishes as you sink into the couch for hours on end. This strain can help users with depression and PTSD.
It's a common characteristic for potent marijuana strains to come with prominent psychoactive effects. But in the case of Chem Scout marijuana seeds, it's an entirely different story. The high potency of this indica-dominant hybrid often leads to increased focus, concentration, and overall cognitive function. Besides that, users can enjoy this high-THC strain without overwhelming psychoactive effects.
Take advantage of the early stages of Chem Scout marijuana seeds to get any necessary work done. Once its relaxing side kicks in, it's nothing but TV and couch time for the rest of the evening. Chem Dog comes with a spicy and pine-like aroma. While it's often used to combat symptoms of depression and PTSD, too much at once can lead to dizziness and dry mouth, so take it easy on this one!
Description