To bring out its rich purple hues, growers only need to lower the temperature during the flowering period. However, growers should remember to only do it during the 'night' phase.
Purple Cream is a stunning strain. It catches the eye with its deep purple buds which exude the air of royalty. Hairs of gold and a backdrop of olive complement its striking hues. In one's hand, it leaves a sticky residue – likely from its thick coat of resin which signals its high levels of psychoactive compounds.
Indeed, the Indica-leaning strain is quite potent. Its boasts up to 24% THC with an average of 18%. However, it is quite versatile as well. Beginners may enjoy the strain in either low levels or by checking the packet of buds for its potency levels. Some batches are friendlier at 10% THC. Regardless, it delivers the same pleasant high to all enthusiasts that seek it.
Purple Cream Strain Growing – Image Powered by cannabis.wiki
Medical Use and Benefits
Indoors, Purple Cream remains to be a fast-flowerer. In fact, it only takes the plant between 7 to 9 weeks to fully mature with yields at least 300 to 350 grams of buds per square meter. Because grow lights cannot supplant the sun, it is not uncommon for many strains to produce lower turnouts. Growers can remedy this by applying various growing techniques and providing the batch with an adequate environment.
Indeed, Purple Cream is best reserved for use at night. It thoroughly soothes users from head to toe, soothing away anxieties and releasing tension or tightness. Sleeping is a foreseeable effect at the comedown hence making it counterproductive in the morning.
The tingling sensation intensifies after about an hour or two. It starts at the temples before trickling down to the rest of the toes. Each muscle it surges through is thoroughly relaxed. After it envelops the body, it brings back one's initial limberness. However, one will not be able to move around to complete tasks or finish projects. Its Indica-leaning effects plant a heaviness in the limbs that prepares users for sleep. In all likelihood, enthusiasts who are lounging on the couch will eventually be lulled in a deep, unencumbered slumber.
Odor and Flavors
Purple Cream is a slow-starter like many Indica-leaning strains. Usually, its effects do not start until 15 minutes after the first two or three puffs with a gentle rush of euphoria that spreads all over the mind. It leaves users feeling happy from within as it replaces feelings of contempt to cheerful memories instead. All throughout the onset, it remains quite subtle but it is enough to prepare enthusiasts for the upcoming body high.
Although its gained quite the reputation, Purple Cream's history remains a mystery.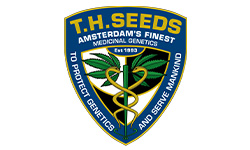 This new cultivar is a genetic cross between Banana Punchsicle x French Macaron ; Banana Punchsicle is a breeding project between the champion of the banana terp, Banana OG , with the infamous berry heavy Purple Punch . Meanwhile, the French Macron is a cross between Gelato 33 and French Cookies , encompassing an all-star team starring many of the finest flavours in modern cannabis.
The French Macaron has really levelled up the unique colouring & flavours present in the Banana Punchiscle cross used in these genetics.
The Purple Banana Cream feminized weed seeds from T.H.Seeds™ is the latest drop from the acclaimed team's arsenal of genetic firepower.
The Banana OG is known for its lovely foamy banana candy flavour that's both delectable and delicate and provides sweet aromas from start to finish, Purple Punch almost matches this sweetness but is rich with a tart berry flavour that has quickly gained a reputation. On the other side of the cross, we have the sweet bakery aromas from the French Cookies and the rich, creamy sherbert notes from the illusive Gelato 33 . These strains combine in the best way possible to give a sweet fruity banana & grape dessert flavour that's equal parts: fresh fruit, ice cream and candy.