Int: 011 44 1473 724698
By staying on this site, you agree to the use of cookies. You can find out more by following this link.
Phone Us: (01473) 724698
Please Note: This content is for informational and educational use only. The Attitude Seed bank sells all seeds strictly for souvenir purposes or for storage and preservation of genetics in case the laws may change. We do not condone or encourage the germination of cannabis seeds and we will refuse a sale to anyone who leads us to believe they intend to use our products in an unlawful way.
WARNING: IT IS A CRIMINAL OFFENCE TO GERMINATE CANNABIS SEEDS IN THE UK AND MANY OTHER COUNTRIES.
> Suggestions for you
Int: 0044 1473 724698
Sign up for the newsletter
Int: 011 44 1473 724698
We sell our seeds for souvenir purposes only and for storage in-case the laws change. We at 'The Attitude' are here to help, but we do have our restrictions. We CANNOT, and WILL NOT discuss germination / yields / THC levels, etc. of seeds as it is ILLEGAL to germinate seeds and sell them for germination purposes in the United Kingdom and we cannot be seen promoting this. Unfortunately, E-mails may be ignored and remain unanswered if questions relate to the above and you may be refused a sale should you persist in requesting further information. For more information in regards to our website, please head over to the F.A.Q. section.
At first, consumers report feeling a slight lift, and then the body becomes incredibly heavy. You will not be able to work after that because it leaves no chance to focus. Your body will also experience couch-lock. Admirers of this cannabis compare it to being drunk. But thanks to the high levels of THC, this strain is used in medicine. It helps with insomnia, chronic pain, depression, seizures, and spasms. And after consuming this weed, the hunger increases; hence it can help with loss of appetite.
Banana Cookies is a strain that gets its name from its flavor. It really tastes like a soft banana nut cookie. The smell is slightly different; it is a bit earthy and sour. The Sativa in this herb is 100% of the content. Banana Cookies' parent strains are Sour Diesel x Platinum OG, which are both very strong.
This strain is completely unsuitable for beginners and people with low tolerance. Even experienced consumers should be careful when taking this kush. THC levels up to 30% and can cause comatose effects. Lovers of this strain use it at bedtime because it can help reduce insomnia. But the effect cannot be called mild drowsiness; rather, the high from this cannabis can knock you out.
This strain is the most common and accessible in California. You can also order it in online stores. Growing this plant is difficult because it is pretty challenging and demanding. Suppliers check the product carefully before pushing it out for sale.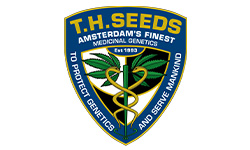 The Banana OG is known for its lovely foamy banana candy flavour that's both delectable and delicate and provides sweet aromas from start to finish, Purple Punch almost matches this sweetness but is rich with a tart berry flavour that has quickly gained a reputation. On the other side of the cross, we have the sweet bakery aromas from the French Cookies and the rich, creamy sherbert notes from the illusive Gelato 33 . These strains combine in the best way possible to give a sweet fruity banana & grape dessert flavour that's equal parts: fresh fruit, ice cream and candy.
The Purple Banana Cream feminized weed seeds from T.H.Seeds™ is the latest drop from the acclaimed team's arsenal of genetic firepower.
This new cultivar is a genetic cross between Banana Punchsicle x French Macaron ; Banana Punchsicle is a breeding project between the champion of the banana terp, Banana OG , with the infamous berry heavy Purple Punch . Meanwhile, the French Macron is a cross between Gelato 33 and French Cookies , encompassing an all-star team starring many of the finest flavours in modern cannabis.
The French Macaron has really levelled up the unique colouring & flavours present in the Banana Punchiscle cross used in these genetics.
If you're looking for something easy to grow, then look no further! Legal growers will find a unique strain that is unbelievably easy to cultivate, harvest and manicure. She has a unique structure and is resistant to extreme conditions, the perfect strain to begin with & can be topped to increase yields / density . She also produces extremely dense buds and high resin content , lending itself to producing optimum hash yields requiring minimum efforts from legal extractors.