Thc 23.65% Cbd 0.75% Terps 2.52%
3.5grams of flower Nitrogen sealed in a convenient, resealable childproof can! Special Pheno by Bodhi Seeds is a sativa-dominant strain that crosses Dirty Hippy (an Afghooey-Blockhead hybrid) with Appalachia. With subdued flavour's of fresh cedar and earthy spice, Butter Pecan deals a mellow buzz that lets you stay active, productive, and social. This sativa is a great choice for unleashing laughing fits and creative sparks on those days when your mood and motivation could use a lift.
Blue Ice created through crossing the infamous White Widow X Pure Haze strains. Best known for its gorgeous appearance, Blue Ice packs a punch of lifted effects that are perfect for getting you up and moving when you have somewhere social to be. Blue Ice buds have small and fluffy dark olive green nugs with deep purple undertones, matching blue-tinted leaves, deep amber hairs and a coating of frosty thick purple- and blue-tinted crystal trichomes. As you pull apart each sparkling little nugget, aromas of sour citrus and spicy herbs and earth are released. The flavor follows the same profile, with a sour citrus overtone that's accented by savory spices and herbs. The Blue Ice high is definitely one that's perfect for when you're heading out or hanging out with friends, with a sociable and outgoing overtone that's very vibrant and happy. You'll euphoric with a giggly sense that keeps the conversations rolling for hours on end. Blue Ice is often chosen to treat those suffering from conditions such as chronic stress or anxiety, depression, mood swings, chronic fatigue, nausea or appetite loss and chronic pain.
Thc 26% Cbd 1.2 % Terps 1.8%
White Tahoe Cookies is an indica-dominant strain created by Kush4Breakfast and distributed by Archive Seed Bank. This strain is a blend of The White, Tahoe OG, and an unknown Girl Scout Cookies cut, and exemplifies attributes of each in trichome coverage, effect, and aroma. The GSC bouquet has been enhanced through this cross, offering up sweeter, hashier notes with distant OG undertones. Its restful effects pile on with each hit, weighing the consumer to their seat while alleviating minor pain and anxiety.
Butter Pecan
Thc 27% Cbd 0.03 % Terps 2.4%
Powdered Donuts is a slightly indica dominant hybrid (70% indica/30% sativa) strain created through a powerful cross of the insanely delicious Orange Cookies x Jet Fuel Gelato strains. This tasty bud boasts a long-lasting buzz that is powered by THC level around 24% to 27% Powdered Donuts high is characterised by a euphoric cerebral buzz that starts behind the eyes and in the forehead before quickly spreading throughout the body, leaving you happy and utterly relaxed. This high is relatively mild in nature and won't cause you to experience any paranoia, anxiety, or sedation that sometimes comes with hybrid strains. Because of these mellow effects and its moderate THC level, Powdered Donuts is said to be the perfect strain for treating patients suffering from chronic stress, anxiety, mild cases of depression, and muscle spasms or tremors. Much like its name suggests, this bud has a tangy aroma of sweet citrus and a taste of sweet fruity citrus that has a sour earthy tinge upon exhale. These buds have medium-sized super dense lumpy spade-shaped light minty green nugs that are covered in fiery orange hairs and sparse spattering of white crystal chunky trichomes and resin.
Thc 25% Cbd 0.6 % Terps 2.3%
Ghost OG is a useful marijuana strain that is an Indica dominant strain containing a mixture of 70 percent Indica and 30 percent Sativa. It is produced by crossing Afghani Indica with OG Kush. It has a colorful appearance that has a leafy exterior and contains numerous colors, including tones of green, yellow and purple. It is covered with trichomes and has a dense feel. It has a moderate to high THC level. It has a pleasant and strong aroma with a hint of lemon and citrus. The taste of this marijuana strain is quite pleasant as well and is a blend of Kush, lime and sweet flavors. It produces a high and strong buzz that takes over you in an instant. Ghost OG has positive effects on your system, such as calming your nerves and making you feel happy and cheery. It also makes you feel hungry soon after you consume it, stimulating you to munch on different things. Ghost OG is excellent for treating anxiety and stress, and provides instant relief from depression. You can also use it for curing various mild to chronic pains, including the strong pain of arthritis. It can also be used for curing headaches and back pains.
CBD – Ice Blue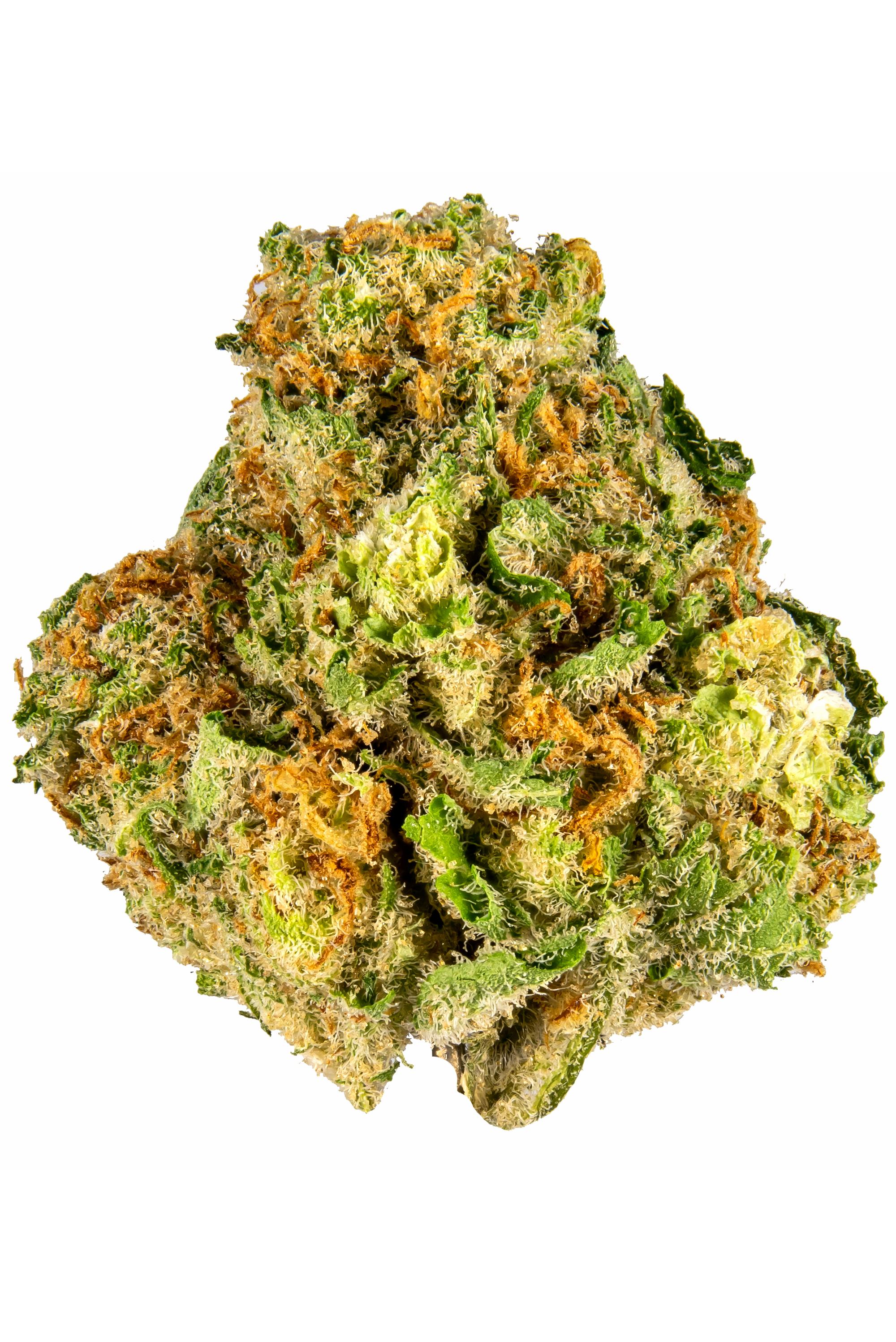 What does Donuts taste like?
This strain gets its name from the scent and flavor it produces after it is ground up.
Donuts is a delicious hybrid with a complex terpene profile: Its initial scent is of earth and pepper, but once ground up, it emits a delicious citrusy aroma. Its taste continues to surprise, as it's more like berries, vanilla, and spices. Its effects vary as it can both relax and energize, according to reviewers.
Genetic Lineage
What color does Donuts have?
Donuts cannabis THC levels tend to fluctuate depending on the cultivation and curing techniques used, so be sure to check out your batch's level before making a serving for yourself. Currently, Donuts strain lineage remains a mystery, though it is believed to be a fairly balanced hybrid.
Lab Data
Have you ever tried a fresh donut with gooey lemon filling inside? The Donuts strain might remind you of such a delicious confection after you've ground up its small but satisfying buds. Initially, the scent isn't overly pungent and it smells more like earth mixed with pepper. But once it's ground up, it emits a sweet and citrusy scent that'll make your mouth water. The taste of Donuts weed is just as good, but less like citrus and more like berries with hints of vanilla and spice.
Appearance-wise, cured nuggets of Donuts are small, round, and dense, similar to popcorn balls. They show with sage and light green hues, with tan and brown pistils that have a slight orange tone to them.