This OG Kush back-cross has been a pet project for many years along with several other OGs made for the purpose of finding heady OG-leaning varieties. Quality was the priority over commercial viability. The goal with the OGKB was obvious right away. Bring the qualities of the OGKB into a more vigorous plant. The OG-leaners were amazing but there was a TON of height variation so we kept hitting her with the taller ladies. The result is mostly taller, classic OG stretch, but still maintaining lots of flavor and trichome density from the OGKB. The #JoshDOG from @karmagenetics was the last piece in this OG dance.
There's still a short OGKB pheno but she's taller and much more vigorous than the OGKB clone.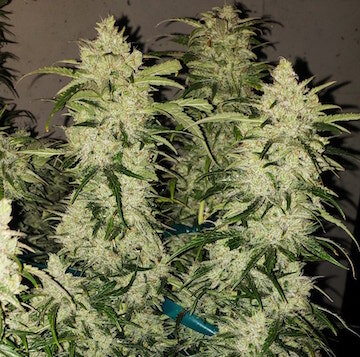 • TERPENE PROFILE: Low (30/100)
Hard-hitting hybrid. Uplifting energetic and euphoric but not racey. Great appetite stimulant.
Heavy flower yields are easy to get on this low-maintenance, medium-height, strong, lateral plant.
The Original Mandarin Cookies R1 boasts vigorous growth with medium-long internodes and chunky, high-calyx flowers. She's quickly becoming a legend.
Reg Varieties >
Morphology: She has a fantastic structure. Most are medium-height. All show strong vertical branching, closely stacked flower-sets and a very high calyx-to-leaf ratio. Easy to grow for any situation.
The 1970s Afghan Kush keeps the plant stacked and big while the OGs in her lineage give her more vigor, internode stretch and legendary effects. The Rozé adds a great, subtle undertone of both flavor and distinctive characteristics expressed in her flowering leaves.
2) BLUEBERRY COOKIES x MANDARIN COOKIES V3 – 9-10 weeks
Mac n' Jack R1
She's a wonderful plant to grow. Easy, indoor or outdoor. Large, chunky flowers stack nicely on vigorous, medium-height plants with strong lateral branching.
Outdoor: Early-mid season