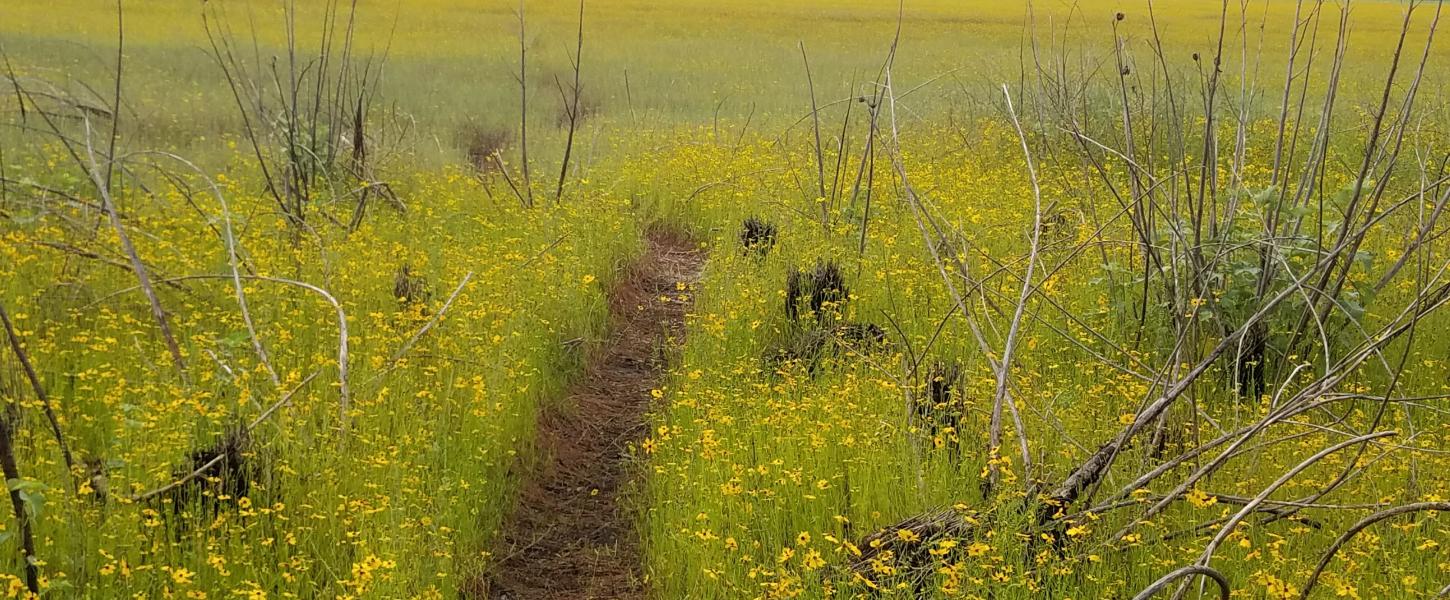 The colloquial name "tickseed" comes from the appearance of the center of the flower, where its seeds grow. It bears an uncanny resemblance to tick eggs. However, ticks do not lay their eggs here; it is just the seeds for next year's flowers!
Myakka River State Park has two types of Coreopsis. Coreopsis leavenworthii has a slightly larger flower, and it grows sporadically throughout the year, usually near seasonal ponds or on marshes along the river. Coreopsis floridana has a slightly smaller flower, and this species comprises the phenomenal late-spring bloom in Big Flats Marsh. (Coreopsis floridana is pictured above.)
The Coreopsis bloom is a beautiful sight to see. Visitors are encouraged to bring cameras! Please do not bring any large/structural equipment. Please do not pick any flowers. These helps us protect the blooms for years and generations to come.
Coreopsis, commonly known as tickseed, is the official state of Florida Wildflower. This delicate, native flower blooms in abundance in mid-May, at the Big Flats Marsh in Myakka River State Park. As the dry season gives way to legendary Floridian storms, Coreopsis seemingly burst from the ground, covering the rolling field with bright yellow joy.
The large bloom usually lasts for about 2 – 3 weeks. Once pollinated, these flowers will go to seed. The seeds remain dormant for the rest of the year. Temperature and water levels through the year affect how many seeds will successfully bloom.
Last week, it finally happened. The Florida Legislature repealed a ban on smokable medical marijuana, and Gov. Ron DeSantis quietly signed it into law. Cathy Jordan's tenacity played an instrumental role, but what if she had never smoked Myakka Gold in the first place? What if she had killed herself as planned? Maybe the law would still be in place right now. But maybe it wouldn't.
Donnie Clark wouldn't mind getting out of Bradenton. Traffic's terrible, and what's become of people, anyway? One morning a few months ago, just as the sun was rising, he was sitting on his porch when a couple of guys in masks attacked him, broke his nose and stole his money.
That never would have happened in federal prison.
Myakka Gold, in a roundabout way, is responsible for the implementation of a law that will have a major impact on many lives.
It's strange how things turn out. In 1985, a lady named Cathy Jordan came to Bradenton from Delaware. She had Lou Gehrig's disease and intended to end her own life.
When he was growing marijuana in the snake-infested swamps of Myakka City, and making a fortune doing it, he never dreamed that one day the real value would be medicinal rather than monetary.
They grew it in a swamp in Myakka City, and they were hard to detect because they prowled around like gators, Duane in particular, and they used hydro-devices that made the plants float in the water. No one had done that before. Former detectives from the Manatee County Sheriff's Office still marvel at how good they were. They would even use black shoe polish on the strings that held the plants up so the helicopters could not detect them.
But money changes things, of course. At one point, it got so serious that someone killed a detective's dog and put a water moccasin in his mailbox. Gary Clark went to the Myakka City Post Office and spray painted: "Anyone who rats on a grower is a dead rat."
Jordan and her husband, Bob, eventually moved to Bradenton, continuing her marijuana experiment, and for the last several decades they have been constants in Tallahassee, she being one of the faces of the fight to legalize medical marijuana.
Plants with this icon have to be special ordered. There is no additional cost to you.
Plants with this icon are non-native and Florida-friendly.
We hand weed our pots and property rather than use weed killing herbicides and we use organic fertilizers on our plants. These are just two of our environmental commitments to you, to future generations and to Florida.
Nursery
When you visit, knowledgeable staff is always on hand to help you select the best plants for your situation.
Trees | Palms | Coontie | Shrubs | Shrubs Under 3ft | Vines | Grasses
Groundcovers | Ferns | Wildflowers | Wetland Plants | Edibles
Mon., Tues., Weds.: by appointment for landscaping consultations
Plants with this icon have pictures associated with them. Click to view the corresponding plant's pictures.
Trees | Palms | Coontie | Shrubs | Shrubs Under 3ft | Vines | Grasses
Groundcovers | Ferns | Wildflowers | Wetland Plants | Edibles