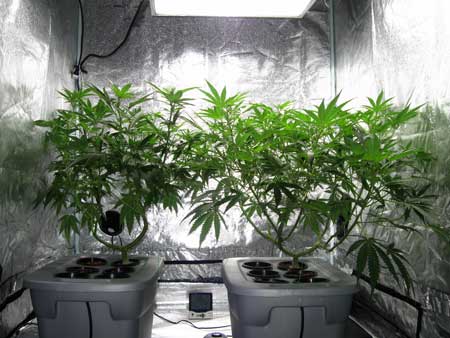 Go Pro with HIDs: MH/HPS Grow Lights
Setup Cost:
Setup Cost:
Grow Space: Will work in most grow spaces
Maintenance: 1-2 hours/week – tend plants, mix nutrients, etc
Check out the following recommended cannabis grow setups!
What do I need to grow just a few plants?
Grow Space: Portable, will work in almost any grow space
When growing cannabis indoors, you absolutely have to use some sort of lighting system potent enough for your plants to believe that they're outdoors, allowing them to grow and flower perfectly.
Once you know where you're going to grow and how you're going to distribute the space, you're going to need to make a shopping list.
1- Grow tents / Reflective sheeting
Shopping lists are highly recommended so that you don't end up spending more than you need to spend on unnecessary or expensive things. If you take your time to have a look at the current market and options, you can save quite a lot.
Materials needed to grow cannabis indoors:
In order to calculate the inline fan strength you'll need to calculate a fourth of your extraction strength. So, if you have a 1.2×1.2x2m grow tent and a 600w lamp, you'll need a 468m3/h extractor. So, for your inline fan you'll need to calculate 468/4 which is 117m3/h – this is the type of intake that you'll need.
You might be thinking:
2. Grow Lights
Is hydroponic growing better, or soil?
Growing Indoors: 10 Essential Marijuana Growing Supplies
You're going to have to replace sunlight, which is by no means an easy task.