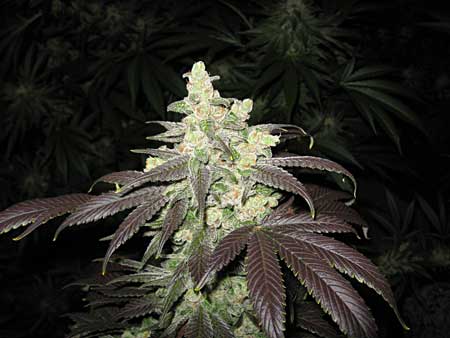 Week 8+: Flowering Ends, Final Flush, Harvest
Your plants are probably STINKING up everything around them!
Some strains like Blue Mystic and Northern Light are known for having relatively low smells, but many strains can start getting pungent quickly!
Although your female plants will start sprouting lots of white pistils, they usually won't start growing "real" buds with substance quite yet. If you're new to growing cannabis, it's very important to note that only female cannabis plants make buds.
From now until harvest it's extra important to avoid too-high levels of light or heat because (in addition to foxtailing) this can discolor/bleach/burn your buds and may even "evaporate" away some of the THC / potency.
Week 4-6: Buds Start Fattening
Autoflowering strains of cannabis don't need special light periods to start flowering, however the cannabis flowering timeline in this tutorial is a good general guideline for indoor auto-flowering strains, too. Their "vegetative stage" lasts about 3-4 weeks, so as long as you start counting at week 3-4 from seed (when they start getting their first pistils) this flowering timeline will generally apply to autos too, though sometimes they finish up faster.
From now on your plant won't be making any new leaves or stems. It has completely switched gears away from vegetative growth and all its energy will be focused on growing buds from now until harvest.
You are basically just maintaining your plant until harvest. Different strains are ready at different times, but from now on you're going to pretty much treat them all the same. Keep a close eye on the buds, pistils and trichomes as a whole to help you figure out the best time to harvest to get the effects you are looking for.
This is a good time for your plant. During this flowering stretch, your cannabis plants will still be very resilient and can quickly recover from any problem that they experience. This resiliency also occurs during the vegetative growth stage.
Related: The Cheapest Way to Grow Pot Indoors
The bottom leaves on some plants begin yellowing and falling off during this stage while other plants begin losing leaves during Week 4-6 of the flowering phase. Nevertheless, you still need to be vigilant so that you don't mistake a problem for normal leaf loss. If all is as it should be, your plants should stay full and green with just a few bottom leaves discoloring or possibly falling off.
Week 4-6: Fattening of the Buds
Seed Coupon Included