Personally, I just love the flowering stage. You can watch the buds develop, rewarding your hard work so far. Still, the flowering stage comes with its own particular risks. As your budding colas flower, the lovely aroma of fresh weed spreads. Of course, we don't want to share that with neighbours and passers-by. That stresses the need to use proper filtering with exhaust fans and carbon filters. Here's a helpful tip in case you can't control the stink, or if your power blacks out: always have a bottle of vinegar handy! In case of emergence, put a pan of vinegar on the cooker. Yes, it smells awful, but the vinegar stench will also neutralize the odour of your weed!
Sea Of Green (SOG) allows you to grow more plants per square metre. You switch to 12/12 lighting early, creating a 'sea' of flowering buds.
Welcome to the sequel to my first post on growing cannabis at home. In it, I explained what you need to get set up for your very first weed grow. After that, you ordered your perfect seeds to work with. That means we're all ready to roll up those sleeves and get growing! Your weed plants will go through a lot between the moment your seeds germinate and that first taste of your harvest. In this blog, I'll discuss the stages you'll go through before you get to enjoy the fruits of your very first cannabis grow at home!
Don't Wake The Neighbours
When growers receive their Cannabis seeds, it is time to germinate. Germination is the first step of the real growing adventure: so far, everything was just preparation. Once a cannabis seed germinates, its protective shell cracks open, and the first tiny root peeps out. For the sentimental grower, this is an emotional moment – a bit like childbirth, actually. It's also a moment, however, to be very delicate in handling cannabis seeds.
Now comes the last stage: curing your cannabis and processing the trimmings. Never just dump your trimmed leaves in the bin; use it for good. You can make hash or delicious edibles from what's left over: this plant has more to offer than buds alone!
Keeping Your First Cannabis Home Grow In Check
That's why I prefer to trim first, and then drying the buds in a drying net in the same room where I grew them. I allow fresh air into the tent and keep it flowing to cut mold risks. The buds take two to three weeks to dry.
As the flowering stage draws to a close, keep watching your trichomes. Trichomes are the little 'crystals' glittering on the buds and the small sugar leaves around them. In fact, they're not crystals, but resin glands. They hold all the active compounds we're after. Trichomes clearly indicate when it's harvest time.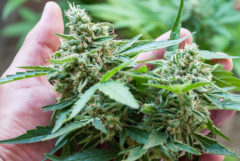 Only now can the sex be determined with any certainty. While male plants produce pollen, the female plants pour their energy into producing flowers or buds. Most growers want to prevent their female plants from getting pollinated, because then they start to produce seeds. That is why male plants should be removed from the growing area.
A quick glance is usually enough to determine the current stage. Over time, it is not just the appearance of the plant that changes, its needs also change. Different stages require different quantities of light, water and nutrients. Furthermore, if you want to determine the sex of the plant or prune it, it is useful to know which stage the plant has currently reached.
Cannabis is an annual plant, so its entire lifecycle takes place within a single year, with most varieties reaching the end of their life after between four and ten months. In general terms, the following four stages of life can be distinguished:
How long the seedling stage lasts depends on the variety and on the environmental conditions. The main focus of the plant is on developing a root system. This forms the foundation for its later growth.
How to Harvest Cannabis Plants
Cannabis passes through a series of stages in its life. The most important of these are the germination, seedling, growth and flowering stages. Each stage brings its own challenges. Novice growers need to be aware of these, to be sure of giving their plants the attention and care that they deserve.
As it grows, the plant also needs more water. Young plants are best watered close to their stem, but later on water should be distributed more widely so that the tips of the roots can absorb water more efficiently.
How long the growth phase lasts is not a simple question to answer. Autoflowering cannabis varieties move automatically on to the flowering stage within 2 or 3 weeks. Regular or feminised varieties only start flowering once the days become shorter (outdoor cultivation) or the grower reduces the lighting period to 12 hours (indoor cultivation).
Related post
For most people, the flowering stage is the most exciting stage in the lifecycle of a cannabis plant. Once the days become shorter and the plant receives less light, it starts to take care of reproduction.
Some growers use special fertilisers during this stage to stimulate bud formation. During the flowering season, cannabis plants need plenty of water. They may need to be staked to help support the weight of the buds. In order to avoid disrupting hormone development, the plants should not be pruned after the second week of the flowering stage.