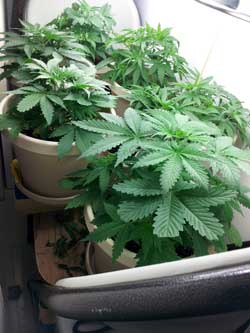 Indoors
While not technically a "stage," all grows start with cannabis seeds or clones.
Don't want to worry about light schedules? For growers that don't want to pay attention to light schedules, there are auto-flowering strains of cannabis, which will automatically go through their whole life in about 3 months no matter what light schedule is provided. For some growers, an auto-flowering strain may be more simple than a traditional (photoperiod) strain.
So indoor growers have a choice to flower their plants whenever they want… When is the best t ime to start flowering your cannabis indoors?
Lingo: When a grower provides 18 hours of light a day and 6 hours of darkness, this is commonly known as the 18/6 light schedule. For 24 hours a day, this is referred to as the 24-0 light schedule.
Age: Some growers feel that a marijuana plant which has been grown from seed will not produce as many buds or have enough resin production if the plant is not given at least 60 days in the vegetative stage to mature before it's changed over to the flowering stage. This is not true. many growers initiate flowering soon after germinating a seed in order to keep plants small and short. This is often called "12-12 from seed." Just remember, no matter what you do, a young cannabis plant will not start flowering until it is 2-3 weeks old. Even if you put a seed on a 12-12 schedule from the beginning, it will not start properly budding for about 3 weeks. When growing with cannabis clones, age is not an issue and growers can switch directly to flowering once your clone has established roots. This is because even though a clone may be small, it's still a 'mature' plant since it is made of a piece from a mature plant. Rooted clones tend to grow much faster for the first few weeks than plants grown from seed. In any case, age is not much of an issue, and you should switch your light schedule at the time that best fits your needs.
If you live in a cold climate, you must also wait until after the last frost before putting your plants outside. Freezing temps will kill cannabis plants. Strain choice is very important. Some strains flower earlier than others. For outdoor growers in cold climates, it's important to make sure you grow a strain that is matched up with your local weather, so that plants are ready for harvest before temperatures drop.
Harvest!
As long as your plant is getting plenty of light a day, your plant will automatically stay in the vegetative stage from late spring until late summer. Every strain is a bit different.
What many growers don't realize is that cannabis demands an uninterrupted dark cycle. Just as your good REM sleep would be interrupted if a light popped on at 2 a.m., cannabis doesn't fare well when any light disturbs it during its dark "sleep" cycle. The moon and stars don't bother cannabis, but any artificial light can stop its bud growth. In fact, light interrupting its dark cycles can make cannabis so stressed and irritable that it can lead to hermaphroditism. That can pollinate females and ruin your plants.
Cannabis growers know darkness is as important as light. You may not think of the principles of yin (dark) and yang (light) when planning your light deprivation schedule, but savvy growers understand the dual needs of cannabis. And whether your greenhouse sits in the Pacific Northwest under long summer days or in the hotter climes of the Central Valley, it's essential to balance darkness and light for a maximum bud harvest.
When you are ready for your cannabis plants to flower, a 12-hours of light and 12-hours of darkness schedule is standard. Nighttime provides darkness, keeping cannabis on somewhat of a natural clock. This is why indoor growers need to make a deliberate effort to not only create long, bright days but also emulate dark cycles for cannabis to grow large full buds.
Keep to Your Chosen Schedule
If you decide on the classic 12/12 light dep schedule where you cover your plants at 7 p.m. and uncover them at 7 a.m., be consistent with that schedule. Keep in mind that this schedule requires adequate ventilation, so some growers will choose to uncover their plants at night once the sky is completely dark.
Americover's BOLD® Black Out Light Deprivation Tarp is the top-selling greenhouse cover of its kind nationwide, consisting of two sheets of high strength virgin polyethylene film laminated together with a third layer of molten polyethylene. The cover is scrim reinforced for superior tear resistance. Plus, the cover can be easily set or lifted with the BOLD EZarm Tarp Puller. The BOLD EZarm allows one person to easily cover and uncover a greenhouse without additional help, making the daily chore of light deprivation so much easier.
As a cultivated plant, cannabis still responds to light changes. Depending upon the strain you're working with as well as your environmental demands, your light-to-dark ratio will vary a bit. If you're new to the strain (or growing), talk to old hands about when to end the vegetative phase and trigger your plants' flowering phase. That timing is critical to maximizing your yield. Here are some more specifics.
Why is Darkness So Important?
Covering and uncovering your greenhouse on a set schedule, day in and day out can be extremely time and labor intensive. Pulling tarps is a lot of work, but using the right tools and products makes all the difference. To improve your harvest, you need to provide ample, reliable darkness for your cannabis, a good light deprivation cover and a tarp puller system will help you maintain your light deprivation schedule.
Cannabis in the vegetative stage (when it is growing at a rapid pace) needs at least 13 hours of light per day. In fact, indoor growers commonly use an 18/6 light to dark ratio to encourage faster growth. (Note that most indoor growers vegetate their plants 4 – 8 weeks.)