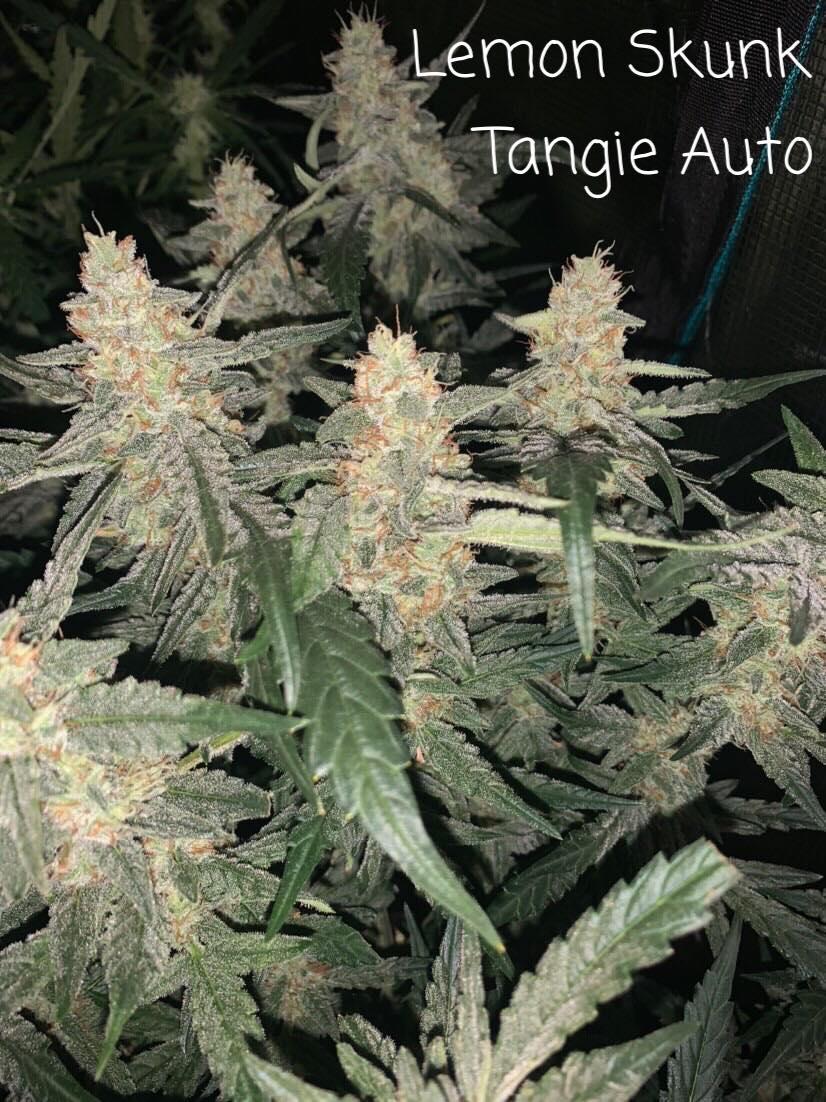 You must be over 18 years old to visit this site.
Are you over 18 years of age?
THE UNOFFICIAL GOOD GUYS POLICIES LEGAL DISCLAIMER
We currently accept Bitcoin, or Venmo for payments. Contact us if you'd like to make other arrangements.
Image Gallery
When you send your bitcoin payment, please include the invoice number of your order in the notation.
All seeds are legally considered HEMP seeds by law. All seeds sold are strictly considered for NOVELTY, SOUVENIR and/or PRESERVATION PURPOSES ONLY!
Lemon Skunk Tangie is a potent and very easy to grow cross of our Blood Lemon Skunk and GG4 Tangie and is a definite improvement to the GG4 Tangie. She is still leaning Tangie terps but with lots of the lemon and loud coming in from the Blood Lemon Skunk. Averaging 4-5oz per plant in 5 gal buckets, she finishes in 85-90 days from seed. Lemon Skunk Tangie is stable, without much phenotype variance, and can be grown in high yield gardens and greenhouses with excellent results.
The Unofficial Good Guys encourages all customers to follow the laws set forth by their Country, State / Province and local municipalities. The Unofficial Good Guys is unable to answer any legal questions and/or make any legal determinations. The Unofficial Good Guys takes no responsibility for any items that are used in an illicit or illegal fashion. The Unofficial Good Guys reserves the right to terminate any purchase(s) made with the intentions to be used in an illicit or illegal fashion and/or any other purpose other than those previously stated. The Unofficial Good Guys reserves the right to permanently ban anyone from using the site, for any reason, at any time. Section 297A of the Agriculture Improvement Act of 2018, Subtitle G, clearly states that "the term 'hemp' means the plant Cannabis sativa L. and any part of that plant, including the seeds thereof and all derivatives, extracts, cannabinoids, isomers, acids, salts, and salts of isomers, whether growing or not, with a delta-9 tetrahydrocannabinol concentration of not more than 0.3 perfect on a dry weight basis".
Tangie is an easy strain to grow.
If you're ready to cultivate a terpene-forward cannabis strain, look no further than Tangie. Tangie's unreal aroma and flavor profile spark deep-rooted pleasure in anyone who experiences its frosty flowers.
Yield:
The dominant cannabinoid in Tangie weed is THC.
Whether this is your first grow or not, Tangie provides a stress-free experience from start to finish.
Background
Type: Sativa-Dominant Hybrid
Cannabinoids: 19-22% THC
Terpenes: Myrcene, Pinene, Limonene
Effects: Euphoria, Creative, Energetic
Landrace Strain: Cali Orange x Skunk
A reimagining of the infamous Tangerine Dream, Tangie is a sativa-dominant hybrid with 22% THC and the ability to overwhelm fans with an energizing, euphoric high and tantalizing and refreshing citrus aroma.
If citrus fruit is your thing, Tangie feminized marijuana seeds are right up your alley. Delivering a potent dose of creative and clear-headed energy, this high-THC strain is perfect for patients struggling with mental health disorders like anxiety and depression. Tangie requires an experienced hand, and intermediate to master growers should have no trouble with this fragrant strain.
Description
The fragrance of Tangie feminized marijuana is unmistakable, and in the right hands (those with master gardening experience, that is) this strongly-scented, fruity marijuana strain will produce healthy, high-quality buds either indoors or out. Tangie does well with the Screen of Green method, and the plants will produce somewhere around 500 grams each after 55-65 days in the flowering stage.
Tangie marijuana induces a clear-headed high that gives patients the boost they need to get through the day. Don't let that sticky sweet scent fool you – it may be great for inspiring creativity and drive, but the potency might catch you off guard. You won't regret taking your time with this strain.
Patients will love the mood-uplifting effects of Tangie marijuana, but also the ability for this strain to ease tension and send stress packing. Even patients suffering from mental health disorders like depression, PTSD, ADD/ADHD and others will find a decent measure of relief, as well as a body relaxation that still combats fatigue.