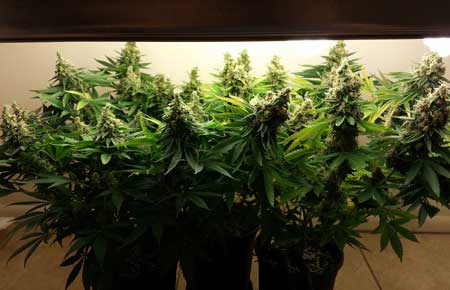 $60) – I love the CoolGrows branded tents. I've tried them in a few different sizes and they are generally higher quality (better zippers, more sturdy) and yet cost less than other "generic" tents. I just wish they offered the 2'x4'x6′ size.
It can be tempting to try to get a really expensive grow tent with all the "bells and whistles" because you want to give your plants the best possible home! But honestly the cheapest grow tent has 90% of the features of a far more expensive grow tent. If you've never grown marijuana before and are reluctant to invest a lot of money, I recommend starting cheap when it comes to tents!
Pros of Growing Cannabis in a Grow Tent
Note: When you open the door of the tent it breaks this seal, which means smells may flood out the door or get pulled into the exhaust fan prematurely. To deal with smells when you open the tent, you can use a product called ONA gel, which is surprisingly effective at covering up odors on a short-term basis.
Although some grower don't use a carbon filter, they can unintentionally be making a trail that leads straight to their grow. Carbon filters ensure there are no smells whatsoever getting where they aren't supposed to be in addition to providing peace of mind!
Before spreading to countries like Spain and Chile, marijuana history shows that it was consistently used in the Islamic empire.

With the legalization of marijuana, an interesting trend has emerged. Regular consumers of the plant prefer to grow it themselves rather than buy it from expensive and sometimes unscrupulous sources, and a Pot for Pot can help.
The Truth About Cannabis
According to international statistics an estimated 159 million people worldwide use marijuana. In the United States at least 94 million Americans have used the drug at least once in their lifetime. In fact, marijuana is the second most-consumed substance after alcohol in the U.S.