The water concentration gradient is significantly reduced due to the higher amount of water vapor present in the air. This means that the cannabis plant will lose less water and hence remain in its best shape.
When you cultivate cannabis in a grow tent, conditions such as humidity and temperatures must be appropriately controlled. While by now we know that different growing stages of the cannabis plant require different levels of humidity, it would help if you kept the humidity in your grow tent relatively high for cannabis seedlings. Several factors affect the amount of humidity in your cannabis grow tent. These include:
Cannabis plants are grown in a relative humidity range of 70-40%. This is neither too high nor too low humidity. As discussed above, both extremes of relative humidity are potential causes of cannabis plant stagnation. It is also good to understand that high humidity may support the growth of mold that may affect the growth of your marijuana plants.
Should Humidity Be Low Or High For Cannabis Plants?
Cold regions have less moist air due to the temperature relation stated above. Growing cannabis in these areas means that the relative humidity must be increased to an optimum level. On the other hand, hot or tropical regions require less control of humidity as most cannabis plants are highly favored by relatively higher humidity.
While many cannabis growers identify sensitivity to the condition of the soil and the nutrients available for the plant, it's environmental conditions that really matter. One of the environmental factors that affect the growth of cannabis is humidity.
Lighting
In summary, relative humidity is vital to cannabis plants as it regulates the respiration process and its subsidiary activities such as water loss. For a cannabis plant to benefit fully from relative humidity, it must be maintained at an optimum level. It will also help if the humidity is also kept constant for an extended period.
In conclusion, it can be said that humidity is an essential condition in the growth of cannabis plants. Always start with a high relative humidity of about 70% for your cannabis seedlings and reduce the moisture gradually until the plant is ready for harvest, where the humidity should be around 40%.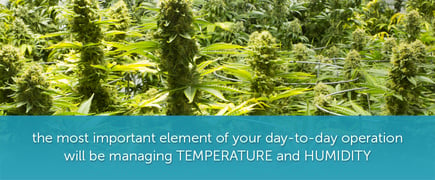 As the roots are now more developed, they're able to perform most of the needed water uptake with evaporation through the leaves now cooling the plants.
What are the most important points of growing a consistent crop to build your brand? Again, borrowing from the winemaker's metaphor, it's all about what you're growing, where you're growing it and the conditions it's grown under. Below, we'll look at how to create the best growing environment, with a focus on humidity and temperature controls .
Adjusting Humidity Levels and Temperature
As you probably already know, after choosing a substrate (the material you'll be growing your plants in/on), the strain(s) of cannabis you'll be growing, lights, watering mechanisms and nutrients needed, the most important element of your day-to-day operation will be managing temperature and humidity.
Though it may be exciting to see the fruits of your labor as you begin harvesting, the work is far from done. Correctly processing your crop helps prevent any chances of it becoming damaged or rendered non-smokeable. Proper drying and curing are essential to minimizing the risk of mold contamination and it also greatly improves the taste when smoked.
The Four Stages of Plant Cycle
You may be tempted to speed up the drying process but it has been shown that slow and steady wins the race. Rushing the process and exposing your crop to high temperatures will almost certainly reduce the quality, and result in diminished flavor and even potentially a "poor and uncomfortable high." Good luck explaining that to your investors or to a discerning dispensary that has numerous growers vying for their shelf space.