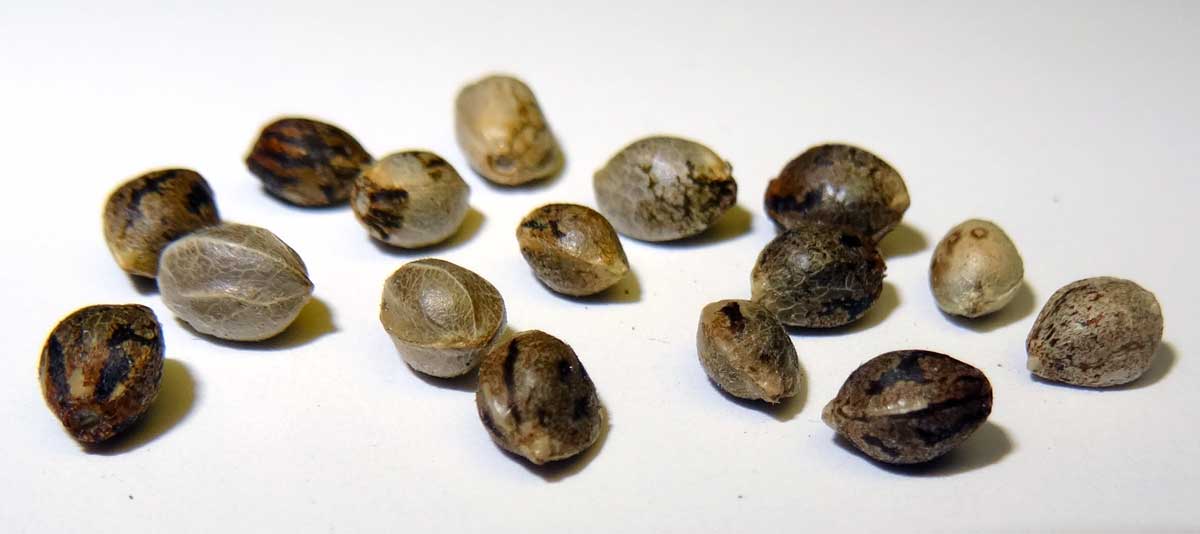 Unfortunately, there's not much truth to any of these interpretations. It's simply impossible to tell just by looking at them what the sex of any cannabis seed is. If it was that easy, feminized marijuana seeds would not be as popular as they are. People could simply buy regular seeds and look at them themselves.
Can you determine the sex of cannabis seeds?
This will mostly happen when a plant is stressed by its environment. When this happens, the plant may think it's going to die and as a result, will change itself into a hermaphrodite plant. By doing so, it will be able to self-pollinate itself and survive.
Common myths on identifying the sex of a cannabis seed
So where do all the myths from sexing cannabis seeds come from?
Keeping in mind that every strain and grow set-up (e.g. indoors, outdoors, daylight hours) creates varying circumstances, most cannabis plants begin to pre-flower as early as 4 weeks after germination. By week 6, the pre-flowers begin to reveal their gender and you should be able to identify the sex using the tips to follow. Once the plants go into full flower (8 to 10 weeks on average, for a natural outdoor grow) the differences between male and female plants will be glaringly obvious. We'll talk more about exactly what each sex looks like in a moment.
Our goal here today is to learn how to tell the difference between male and female cannabis plants early on, so you can get the males away from the females as soon as possible! It will help protect your lady plants – but also spare you the wasted time, resources, and energy of tending to male plants that you don't intend to keep.
Not only are the males less desirable, but male cannabis plants interfere with the quality and production of your female plant. Males grow pollen sacks, and produce pollen. When a female cannabis plant becomes pollinated by a nearby male, her energy shifts into producing seeds.
Identifying a Female Cannabis Plant
Look for plant pre-flowers at the higher stalk/branch junctions, as described above. If needed, use a jeweler's loupe to get a better look! That is the same magnifying tool commonly used to examine trichomes and determine plant readiness for harvest. Then, locate the stipule, which is a leafy pointed flap that protrudes from the junction. Don't confuse that for a pre-flower! The cannabis sex parts are located just behind the stipule. Behind the pre-flower sex parts, taller growth tips will emerge – future auxiliary branches that produce buds.
Please keep in mind that these traits are not guaranteed, and shouldn't be the only way to sex cannabis plants! Variations among strains and phenotypes can lead to all sorts of crazy things. The general plant structure simply may help give you a clue if you're on the fence.
Identifying a Male Cannabis Plant
Another way to create feminized cannabis seeds is called rodelization. It is a more natural but unreliable method, and less frequently used by breeders. Near the end of a growing season, an un-pollinated female cannabis plant will sometimes produce pollen sacks in a desperate attempt to pollinate herself. That pollen can be used to try to create feminized seeds, but because ethylene hasn't been repressed, may also result in male seeds.
I hope you started a few extra seeds, and have plenty of ladies left to grow! Once you determine that you have a male cannabis plant, get rid of it. Again, unless you want pollination and seeds, it is best to cull the males as early as possible. Simply separating the plants isn't enough. Even if you relocate the male plant to another part of your yard, the pollen can carry in the wind. There are stories of female cannabis plants becoming pollinated from neighbors growing several blocks away.