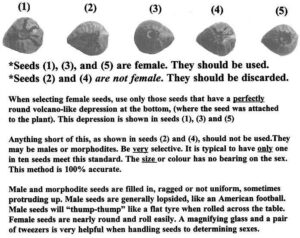 While growers may not be able to determine the sex of a seed, does the environment have anything to do with it? This is something else that has been hotly contested online.
Research is carried out all the time to determine if a plant's environment has anything to do with the sex it will turn out to be. And while there's research stating that it does not, there's just as much research stating that certain species do have their sex determined by the environment. This same research also states that using certain chemical treatments can also reverse the sex of a plant.
The chart states that one can determine the sex of a cannabis seed by just looking at them. Within the chart, five cannabis seeds are shown. Three of these are female and two are male, supposedly. This chart says to look for a crater at the bottom of the seed. It explains that females will have a depression that is perfectly round. While males will have a crater that is misshapen and not uniform. However, this is simply not true. The craters found in cannabis seeds have nothing to do with the sex of a seed.
Common myths on identifying the sex of a cannabis seed
We know that determining the sex of cannabis seeds cannot be done. However, it's unclear as to whether environmental factors have any place in determining the sex of marijuana plants.
Read more from our blog by clicking here.
Can you determine the sex of cannabis seeds?
So where do all the myths from sexing cannabis seeds come from?
This has been a question that has become a very hot topic online these days. After a quick search, growers can find multiple charts and explanations on how to sex cannabis seeds.
Well, regular seeds have a 50/50 chance of growing into a female or male plant. So if you pull seeds from a nug and decide to plant them, there is no guarantee as to which gender the seeds will produce. This is why the production of feminized seeds has grown into a large market, allowing growers to know that the seeds they plant will grow into female plants.
To identify the gender of the cannabis plant, you must examine what grows in between the nodes. The nodes are the part of the plant where the branches extend from the stalk of the plant. Male plants will have small pollen sacs for the purpose of spreading seeds while the female plant will have stigmas, which catch the pollen that male plants spread. It is best to identify the sex of the plant before the plant's reproduction cycle become active. Usually, it is possible to determine the sex of the plant by 4-6 weeks into plant growth.
So how do we know which seeds will grow into which gender?
Say you found a few seeds in a nug you were about to grind and decide to try growing them. How do you identify and tell the difference between female and male plants?
Disease or pests
Like most living creatures such as humans, animals, and other plants, the cannabis plant also has male and female genders and reproductive systems. Being able to distinguish between male and female marijuana plants is important for breeders and growers as the type of weed plays an important role in the value and quality of the final product that is being sold.
This article by Sylvia Hu was originally published on The Green Fund, and appears here with permission.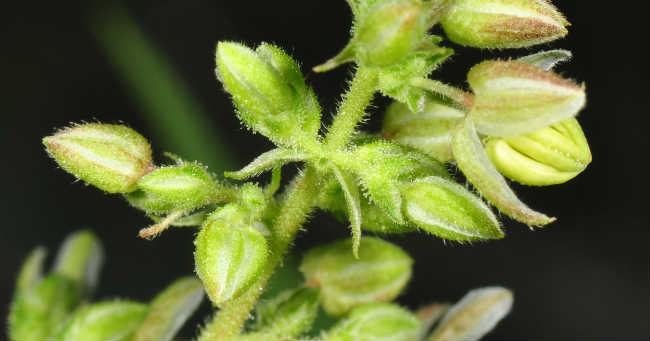 How much time you want to spend figuring out the sex of your cannabis plants really depends on how much time and energy you'd like to devote to growing your own marijuana. If you are a medical cannabis patient or caregiver, for example, and need to know what kind of cannabis you are getting every time to keep a reliable supply, buying feminized seeds from a trusted seller is the way to go. It may even be worth it to have your plants tested for sex before they mature. However, if you have some time, consider yourself a green thumb, and want to experiment with your grow, you could simply plant your seeds and see what comes up. Happy growing!
If you're looking for more precise, science-based methods to tell your plant's gender, there are several labs that can sex your plant right after germination – eliminating the lengthy (usually around 6 weeks) wait to learn its gender. Portland, Oregon start-up Phylos Bioscience is in the business of studying cannabis genetics, and they sell a "plant sex kit" that's pretty simple to do, even for the folks that aren't scientifically inclined. Simply press a cotyledon, or embryonic leaf, onto the kit's filter paper and send it to their lab. They then test the leaf for the "Y" chromosome to determine its gender, just as would happen for a human male.
Feminizing via the silver thiosulfate technique involves carefully selecting a nearly mature female plant, then spraying it with a 50/50 mix of sodium thiosulfate and silver nitrate. This triggers a gender change, from female to male. Place this plant back with the others to pollinate other female plants, and female seeds are created.
Growing
How Important is Your Plant's sex?
The straightforward answer is that, if what you've got is a handful of unmarked seeds, it's pretty much impossible to tell which ones are male or female. The only true way to tell the plant's gender is to plant a seed, then wait for it to mature.
Despite the potential for 'hermies,' knowing your seeds are female from the beginning is probably your best bet.
While it's basically not possible to determine the sex of a seed from a random bag of seeds, a practice known as feminizing is quite popular. Feminized seeds are selectively bred to produce only female plants.
What Are Feminized Cannabis Seeds?
If you have some experience growing cannabis and would like to bend a crop to your will to ensure that the seeds will be female, there are a few feminizing methods you might try. One such technique is to literally stress out a healthy female plant by interrupting the light cycle during flowering, called Rodelization Feminizing.
As anyone with seasonal allergies can attest, it only takes a little bit of pollen to have a big impact. The reason that growers are so intent on weeding out male cannabis plants is that a single pollinator can negate an entire potential harvest.