As your plants get bigger and especially when they start flowering, they'll start to smell more. Outfitting your grow with a dehuey or AC can help bring odor down.
Cannabis, like all plants, prefers certain environmental conditions in order to thrive. Temperature, humidity, light intensity, and airflow are all factors that will need to be monitored and regulated in order to keep cannabis healthy through its different phases.
As much fun as growing marijuana indoors is, having a home that perpetually smells like fresh weed can be a serious inconvenience, if not to you than possibly your neighbors. Although weed odor from a small indoor grow in a closet is much easier to manage than a large grow with several flowering plants, both can produce pesky odors that will permeate an entire home if left unattended.
Every space is different and there will be a learning curve to growing in yours.
Make sure air is circulating through your garden
If using nutrients, estimate how much water you'll need for all of your weed plants so you can measure out and mix in the appropriate amount of nutrients.
You will definitely want to invest in a timer for your lights. Because the amount of light a plant receives dictates its vegetative or flowering stage, it's important to give it a consistent amount of light every day, and that's done with a timer. It's a good idea to check your timer at least once a week to make sure it's working properly.
If you're growing in a cold, wet basement, you might have to run a dehumidifier or heater to stabilize the environment. Conversely, if your space is too hot, you might need to add extra fans or an AC to cool the plants down.
Privacy and security
You'll also want to take this time to check over your weed plants for pests, mold, or nutrient deficiencies.
For growers who have a little extra money to spend and want full control over their indoor garden, environmental controllers will allow you to automate the process. These devices are essential for if you're away from the garden for a long period of time.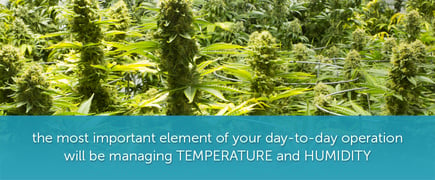 The increased humidity levels allow seedlings to take water in through the leaves while their root systems are developing.
If you opt to use the wet trimming method, you will need to spread them out across a large surface area. Aeration is important so you'll want to avoid setting the flowers on a surface like cardboard or newspaper as the buds will dry unevenly. Wire mesh or netted drying racks are more beneficial. This allows airflow to reach all sides and lessen the chance of moist air pockets. Make sure to allow yourself enough space to spread your crop out evenly with a small amount of space between buds for the best results.
Late flowering (1-2 weeks before harvest)
As the number and size of dispensaries grow, so do consumer expectations of the quality of marijuana products and the availability of diverse and unique brands. As in the wine industry, premier brand names can command a price ten or more times that of an average product.
Dry Trimming
On top of the need for specific temperature and humidity controls throughout the growing process, it's worth mentioning that humidity level during the drying process is equally important to the quality of the final product.
If you clean your room thoroughly before you start growing, you'll be able to keep insect and fungi infestations at bay for much longer, which is incredibly important – if your indoor grow room becomes infected it can be quite hard to get rid of it for your next grow.
How to Build a Grow Room | Deciding your set-up
You need to block any and all light from getting into your grow room. You'll also need to get proper reflective sheeting in order to cover the walls, floor and ceiling of your grow room. You can cover the walls to about a meter and a half if you want to save on materials. We recommend using a stapler to attach it to the walls and ceiling, as double-sided tape can easily come unstuck once the room heats up.
How to Build a Grow Room | Setting up your ventilation system
Once you have your extraction system, intake and filtering system installed and you've covered the walls in reflective sheeting, it's time to start installing your lighting kit.