Not only are LED lights more energy-efficient , but you'll also save on water usage as well. As you are now aware, HID lights use a lot of energy, which in turn produces more heat. This dramatically increases the temperature of the grow room, causing your plants to consume more water. Cannabis is already quite the water hog when compared to other plants and growing even just a small amount of plants uses a lot of water. Any way to reduce water consumption is great for the environment, not to mention great for your utility bill.
If there is one drawback of using LED grow lights, it is that your plants' grow time will be slower than if you were using HID lights. Again, this is because HIDs emit more energy than LEDs, leading to faster flowering.
Affordability
Another thing to consider is how much money LED cannabis grow lights will save you on your energy bill. HID lights are good at what they do, but the amount of energy they use will cause your energy bills to skyrocket. This not only hurts your pocketbook, but it can also draw unwanted attention in your direction either by a landlord, a nosy neighbor, and/or the police. When people had to keep their marijuana growing activities under wraps, spiking electricity bills often gave them away. While cannabis is legal in more areas now, this does not necessarily mean that you want the whole neighborhood knowing what you are up to.
Even if you'd like to grow more than a few plants, you don't have to go for the more expensive HID lights. Simply add to your setup with either a few larger LED bulbs or several of the smaller ones. If you opt to go for the latter option, make sure that your plants and your lights are spaced out correctly, as you want to make sure that each plant gets adequate amounts of light. Using too few lights can cause stretching, whereas using too many lights leaves you at the risk of light burn, as well as energy overconsumption.
Start Growing with LED Lights
This was not always the case. When LEDs were first gaining momentum among growers, the technology was still fairly new and had not entirely been perfected. Think about how expensive and inconvenient cutting-edge technology like smartphones were when they first came out, and it often wasn't worth it. For example, many agree that the first-generation iPhone was not the greatest. However, today's smartphones are much more affordable, and they are everywhere.

Close-up of the trichromes on one the buds growing under the
135W Blackstar LED Grow Light Panel (3W chipset)
"I try to show the average guy or gal how they can free themselves from the grips of dealers and dispensaries. Hopefully this will empower other patients to do the same, and that makes it all worth it."
First invented in 1927, no one could find any practical use for these tiny lights until 1962, when LEDs first hit the scene in 1962 as glowing red indicators on electronics.
Where I was living at the time, I didn't want to have install ducting for ventilation or anything like that, which made HID lights pretty much out of the question for me.
The incredible quality of the buds kept me trying to find ways to up the total yields.
The following information and pictures are here thanks to endive from GrowMedical420.com. Definitely check out his website out for tons more pictures and to get updates about their current and future medical marijuana grows!
Northern Lights: Quick to flower, high producing. Aromas vary from 'incense & hashish' to 'honey & tangerine', but they were all sweet & herbal on the inhale, gentle on the lungs as the spicy/incense undertones become more prevalent. You'd wish you could hold it in forever, as you reluctantly exhale, you are rewarded with one last aromatic blast of sandalwood and hashish…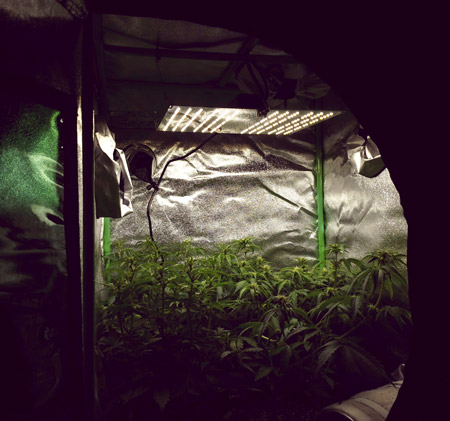 HLG 65 V2 Quantum Board (all versions work well from seed to harvest)
LED grow lights come with built-in cooling systems and heat sinks which vent air up and away from plants. This can make it so that you can hang the LED grow light in your tent and not necessarily need an exhaust system to control the temperature
2.) Traditional Panel
Average Yields: 4+ ounces – keep in mind that the strain (genetics) and any plant training you do makes a huge difference in your final yields
Trusted LED Grow Light Companies for Growing Cannabis – These LED models have been tested and shown to work well for growing actual live marijuana plants
Advanced Platinum LED Grow Lights
How Far to Keep from Plants: 24-38″ is the standard starting distance for the vegetative stage. You can move it to 18-20″ away in the flowering stage, or possibly even a few inches closer for light-loving strains.