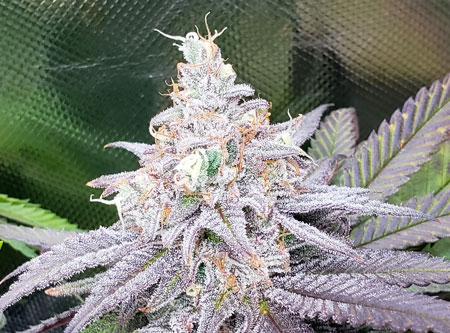 Some strains just don't have the genetics to make cannabis buds as potent and trichome-covered as the one pictured here. Unfortunately, there's nothing you can do to beat genetics. Start with good genes.
Green healthy leaves are always a great sign
During the flushing process of growing cannabis, a grower generally gives their plants just plain water for the last few weeks before harvest. This is done to encourage the cannabis to "cannibalize" itself and use up all remaining nutrients in the plant.
While a United Kingdom Home Office study in 2008 found little change in cannabis potency: samples of sinsemilla cannabis from 2008 had a median potency of 15 per cent, compared with 14 per cent for samples from 2004/5. Long-term increases have been reported in the United States, with an average potency of 10 per cent reported in 2008.
Plant part used: The secretion of THC is most abundant in the flowering heads and surrounding leaves of the cannabis plant. The amount of resin secreted is influenced by environmental conditions during growth (light, temperature and humidity), sex of the plant and time of harvest. The THC content varies in the different parts of the plant: from 10-12 per cent in flowers, 1-2 per cent in leaves, 0.1-0.3 per cent in stalks, to less than 0.03 per cent in the roots.
Sampling: Most data on cannabis potency are derived from the analysis of seized samples. This means that those samples must be representative of the entire seizure so that inferences and extrapolations can be made.