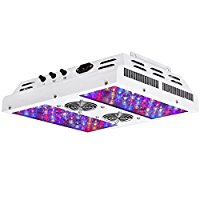 Actual Power Consumption: 200W
View video of this Eldorado plant by Endive
(check out Endive's website)
Quantum Board

pic by Joe "Nunyabiz" Nunya, an avid LED grower who uses ViparSpectra LED
Kind LED Grow Lights
How Far to Keep from Plants: 36″ is the recommended starting distance from the plants.
Selecting the Wrong Light Spectrum
In order to grow efficiently, plants need different types of light for each growth stage. With full-spectrum LED lights this is easily achievable, but if you select the wrong setting, the plant will not develop well. You should also take into consideration the conditions in the room where you're doing the growing. For example, plants benefit most from light in the blue spectrum when they're in the vegetative stage of growth. That means that if you set the light to emit light in the red spectrum, you will only be hindering the plant's growth.
Using Inferior Products
Light is among the most vital factors to consider when growing plants because it triggers the photosynthesis process. If you're using regular incandescent lights, you're not very likely to grow strong and healthy plants. Therefore, for best results it is recommended that you use full spectrum LED grow lights. They are specifically designed for the purpose and have the feature to deliver light in the exact spectrum the plant needs.
Overheating the Plants
You will know the plant is taking too much heat if the leaves that are closest to the light start turning brownish. The first signs look like thin outlines on the outside of the leaves, so if you catch this quickly you will have a chance to avoid further damage. If some of the leaves start curling up, it might also be a sign that the plant is too close to the light. Good ventilation usually also helps with this issue.
Not Protecting and Maintaining the LED Lights
LED grow lights are your friend and an important investment, so you need to take proper care of them. They bring numerous benefits to the growing process and a little maintenance and preparation can save you a lot of trouble. It is recommended that you set up a power stabilizer and connect it to the lights in order to equalize the incoming voltage, thus protecting the chip inside the LEDs.
Forgetting to Adjust the Lights
Many people forget to adjust the height of the lights as the plants grow bigger and end up with burnt leaves. Another important thing is to occasionally rotate the pots in order to prevent the plants from leaning towards the light too much.
For people who use cannabis derived products on a regular basis, it is very tempting to try growing the plant at home. The benefits are quite obvious: the cost is drastically lower and there aren't any hassles related to the actual purchase of medical marijuana.
Many people all around the world grow cannabis at their homes, be it for recreational or medicinal purposes, and while some of them do quite well and manage to produce a good product, for others it doesn't work so well – their plants wither quickly or produce insignificant yields.
Overwatering When Switching from HIDs to LEDs
Regular HID lights produce a lot of heat and generate lots of infrared light. This dries out the plant and the soil and results in the need to water the plant more often. However, LED lights generate no infrared light and don't emit nearly as much heat, so there is no need for abundant watering.
With LEDs, you don't have to place your plants as far away as you would with HIDs. Keep lights below 300 watts about 30-70cm away, or just around 12-27 inches. Lights above 300 watts should be kept at 70-80cm away, while gradually decreasing space when flowering. Larger wattage like 450 should be close to 80 cm or 31 inches.
There are many reasons to use LED lights when growing cannabis.
Cost is not the only reason to make the switch to LED lights . Experienced growers know that seedlings and plants in the vegetative stage benefit more from blue light, while flowering plants need red light to thrive. Before LEDs, growers would have to purchase two different types of lights: metal halide for the vegetative or blue light stage, and high-pressure sodium bulbs for the final flowering stage.
Though they work exceptionally well, HID lights are not without issues. For instance, a good setup is very expensive. If your plants don't produce to your liking, you could find yourself out a few hundred dollars with no way to make your money back.
Related: Smell-Proofing Your Indoor Marijuana Grow Room
You should also be aware that while LEDs don't put out as much energy, your plants are still susceptible to light burn. So, like any other lights, make sure that you are keeping your lights a proper distance from your plants and keep plants dry when under direct light.
For many, the main reason is that they are relatively inexpensive when compared to the much pricier HID setup. This is especially true if you are growing a smaller number of plants. Our grow lights at A Pot for Pot are specifically designed for growing a small number of marijuana plants and is priced well under $200 – proof that high-quality lighting doesn't need to be expensive.
If there is one drawback of using LED grow lights, it is that your plants' grow time will be slower than if you were using HID lights. Again, this is because HIDs emit more energy than LEDs, leading to faster flowering.
Different Types of Cannabis Grow Lights
Not only are LED lights more energy-efficient , but you'll also save on water usage as well. As you are now aware, HID lights use a lot of energy, which in turn produces more heat. This dramatically increases the temperature of the grow room, causing your plants to consume more water. Cannabis is already quite the water hog when compared to other plants and growing even just a small amount of plants uses a lot of water. Any way to reduce water consumption is great for the environment, not to mention great for your utility bill.
It used to be that lighting was one of the most expensive aspects of growing marijuana. A good set of HID or CFS lights could set you back a couple hundred with all the required equipment. Now, thanks to LED lights , cannabis grow lights are much more affordable, making growing cannabis at home much more attainable.