A cannabis plant has two basic stages, although they break down into smaller ones. During the grow period, the priority is developing leaves and stems, creating a sturdy, healthy plant. With that strong foundation in place, you move onto the bloom phase, creating as many sticky buds as you can. For maximum yields, both of those processes need different nutrients—for example, cannabis needs the most nitrogen at the end of the growing period—and with hydroponics, it's incredibly easy to adjust them to the plant's exact needs at any given time.
There's a reason hydroponics is such a classic choice for cannabis: It's easy to set up, it's space efficient, and without the variability that comes with soil, you can fine-tune your plants' nutrients for every part of the growth cycle. There's almost zero guesswork involved, too, thanks to decades of growers that came before you—as long as you're able to measure things—so it works for beginners and old hands alike.
When hydroponic herb rose to prominence in the 1970s, General Hydroponics, now part of Hawthorne Gardening Company, was right there on the ground floor. By 1976, they'd released their three-part Flora Series, the OG cannabis nutrient system that growers still swear by today.
Getting started with a hydroponic cannabis crop
The team at General Hydroponics are the original experts on hydroponic cannabis—and they've prepared a whole knowledge library to get you started. Articles for beginners cover the basics and frequently asked questions. Next-level growing resources give you everything you need to know about your growing environment, keeping your plants healthy, and troubleshooting.
General Hydroponics' straightforward feedchart, built from decades of experience, gives both a simplified, four-step nutrient plan and a week-by-week breakdown, giving your crop the right balance for a productive harvest.
What is hydroponics?
Using General Hydroponics' personalized assistance, clear guides, and straightforward nutrient system, first-time growers can get all the basics for starting their first crop—but once you have the basics down, it's just as easy to personalize and adapt to every individual grow.
Hydroponics gradually spread from scientists to gardeners and hobbyists. While a lot of them were just growing veggies, it especially caught on with cannabis growers. Cannabis is a unique plant with very specific lighting, humidity, and nutritional needs, and hydroponics gave them a level of control they'd never had before. It made it easier than ever to avoid pesticides, too, since many common pests require soil to thrive.
Note what scale the nutrients you are using are based upon before making any nutrient solutions.
Whether you have grown cannabis before or have no experience growing cannabis whatsoever, hydroponics can be a great way to produce cannabis in any size space. At first it can be confusing and slightly overwhelming, but by learning the basics you will come to understand it's not as difficult as you imagined.
Another common measurement used is ppm (parts per million) which is another way of looking at how nutrient-dense your solution is. There are two different scales for ppm used in the cannabis industry: the 500 and the 700 scale. The most efficient way to determine ppm is to take an EC reading, multiply it by either 500 or 700 depending on the scale you are using. An EC reading of 2.0 would equal either 1,000 ppm (500 scale) or 1,400 ppm (700 scale). Many readers used to measure EC or ppm will do this conversion for you.
Many companies sell hydroponic nutrient solutions that are specifically designed for certain stages of growth. Nitrogen-rich nutrient solutions will be used in the vegetative stage while phosphorus-rich nutrients become more necessary in the flowering phase.
Nutrients for Hydroponic Cannabis
Growing hydroponically does require that you invest a good amount of time and money into developing your system prior to actually starting your garden. Additionally, you'll want to make sure your system works effectively and your nutrients are high quality so that your plants will flourish. Once you gain a knack for hydroponics, you'll be on your way to producing world-class cannabis that is well worth the effort.
With some hydroponic methods, you get to use small amounts of grow media that can often be reused while also precisely controlling what nutrients the plants are receiving and pH levels. With such levels of control, growers find that their buds are bigger, healthier and more potent.
Once you have gathered your materials you can begin to construct your hydroponic setup.
What Is Hydroponic Cannabis?
Various materials all provide slightly different benefits and drawbacks, so some thought should be put into choosing the right medium for your cannabis plants. In this article, we are going to be utilizing the drip line hydroponics technique.
A benefit this setup offers is that it can easily be expanded as you want to grow more plants as long as your reservoir has enough capacity to provide all the plants with enough water. To expand a drip line setup, all you need to do is add additional lines to the new pots.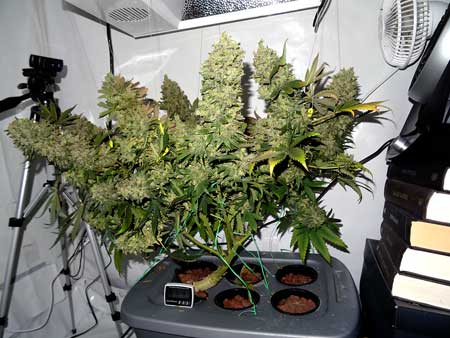 So there are five major parts to getting set up. You need….
Differences Between Soil & Hydro
Cons of Hydro
When it comes to hydroponic cannabis…
How to Grow Cannabis in DWC
Pros of Hydro
Is Hydroponics Good for Growing Cannabis?
Hydro is a no-brainer for me. Whenever I go back to a hand-watered grow like coco coir, I am always surprised by how much extra time it takes to water plants and remove the runoff. The most intimidating part of hydro is just getting started – after that it's actually really easy to take care of your plants. In my opinion, hydro is far easier and less time consuming than growing in soil or coco coir once you're set up. If you are interested in hydro, go for it! If you follow this tutorial you will succeed!
Growing in coco coir can be considered a type of hydroponics since it naturally contains no nutrients and you must provide all the nutrients in the water. However, when you say "hydroponics" most people think of this: