Many flavonoids are also yellow and can influence the colors of marijuana. Nitrogen deficiencies during growth can also cause cannabis leaves and buds to appear yellowish.
As young plants grow, most strains of cannabis are primarily green. Many shades of green are represented—from light lime-colored hues to greens so dark they are tinged with purple. As plants flower and begin to reach maturity, more colors can appear or become more pronounced in both leaves and buds. Several different factors can influence marijuana colors, including temperature, nutrient levels, the acidity or alkalinity of the soil or other growing medium, and the quality of the light. All of these variables can impact the expression and ratio of natural pigments produced by the plant, creating the different colors of marijuana.
Cannabis strains that retain green as the dominant bud color include Green Crack, Green Haze, and Green Goblin.
Oranges and Yellows
Jessy Libik/ Shutterstock
Purple strains of cannabis are very popular, including Granddaddy Purple, Purple Haze and Purple Urkle. Some strains such as Black Diesel and Vietnamese Black can be so high in anthocyanins that they are nearly ebony. Marijuana strains with blue-tinged buds include Blueberry, Blue Dream, and Blue Cheese. Red and pink varieties are relatively rare and include Red Poison, Red Dragon, Pink Panther, and others. Reddish leaves or buds can also be caused by a deficiency of phosphorous, an element vital to plant physiology.
Carotenoids are another group of pigments that can influence the colors of marijuana. They are created by plants, algae, and photosynthetic bacteria. Beta-carotene, lycopene, lutein, and zeaxanthin are among the more than 750 carotenoids have been identified. Some carotenoids in the diet, including beta-carotene, alpha-carotene, and beta-cryptoxanthin can be converted by the body into Vitamin A. Carotenoids are important for eye health and provide protection against blue light and macular degeneration. Carotenoids produce the yellow, orange, and red hues that are found in many plants including carrots, squash, sweet potatoes, pumpkins, and tomatoes. Plants grown in alkaline soils with a pH of 5.0 or less can have a greater abundance of carotenoids.
The Colors Of Marijuana
Part of the magic of marijuana is the infinite variety of traits that can be exhibited by one species of plant. Cannabis plants can be tall and lanky or short and bushy depending on their genetic heritage. Marijuana can express myriad flavors to tempt the tastebuds and aromas to excite the nose. Cannabis leaves and flowers can also vary in hue, offering a full palette of marijuana colors to please the eye.
Strains with orange or yellow flowers include Orange Bud, Lemon Kush, Grapefruit, Nectarine, and Olive Oyl. Many varieties of cannabis will have orange or red pistils, or hairs as they are commonly known.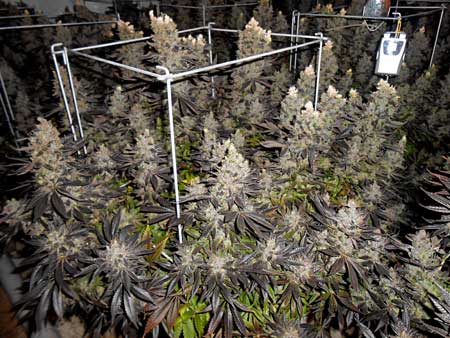 There are many species of plants that make purple leaves. The leaves appear purple due to high levels of a purple pigment called anthocyanin. Anthocyanin may act as a sunscreen for plant leaves because it protects against damage caused by UV-B rays. Anthocyanin is also known to help protect against cold or heat stress on the cellular level.
Sometimes you'll see purple leaves because of a nutrient deficiency, but oftentimes purple leaves are actually caused by natural plant processes.
The tendency to turn colors is greatly affected by strain/genetics, so you can't force any plant to produce colorful buds. However, you can purchase seeds of strains that naturally turn vibrant colors, and there are tricks to maximize their genetics and bring out extra colors on your buds.
"Calyxes" are what make the buds themselves (some growers call them "bracts"). Cannabis "buds" are actually made of hundreds of calyxes stacked on top of each other, and some or all of them may become colors other than green.
Photoperiod (Regular) Strains
The leaves of this plant turned purple overnight after that plant was exposed to chilly night temperatures.
This is what Panama buds may look like when they're first growing in. This beautiful pink pistil pic is by trippergreenfeet.
For some strains, the leaves may turn purple while the buds stay green. This often happens after the plant gets exposed to chilly night temperatures (but not always). Cannabis leaves exposed to direct light (especially LED grow lights) are most likely to turn purple, while leaves in the shade usually stay green. Low pH at the roots can trigger a nutrient deficiency that makes leaves appear purple on some strains, while the leaves of other strains get brown spots from low pH.
Pictures and Examples of Colorful Strains
Brilliant color on Purple Kush Auto plants! The buds turn almost black after being dried!
These buds were given low pH early in the flowering stage while buds were still mostly white. It did help bring our purple, but as a result, many of the leaves got deficiencies which reduced yields at harvest. If you try to bring out colors via low pH, make sure to wait until plants are close to harvest so you don't harm the leaves by accident.