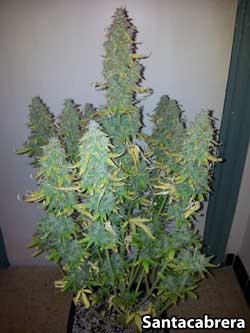 When training autos, the idea is to use bending to open up the plant so it grows flat and wide
If photoperiod plants receive too much light each day, or are exposed to light during their dark period, they will either produce hermies (bad) or revert back to the vegetative stage (stop making buds). If you will be unable to provide complete darkness to your plants during their night period, it's recommended that you choose to get an auto-flowering strain, which isn't affected by light at night.
For an auto-flowering cannabis plant, a grower doesn't have to worry about light schedules. Each auto-flowering plant starts blooming after a few weeks no matter what light schedule is provided. For outdoor auto growers, there's no need to match up the strain with your local time zone or plant at the perfect time – simply plant autos when you know you have at least 2-3 months of warm, sunny weather.
How do I know when to harvest my plants? – Basically in addition to the visual appearance of buds, you can look at your buds under a magnifier to know exactly when to harvest for top THC potency.
Now here are some pictures of Autos (by various breeders and growers) to help give you an idea of what to expect when growing an autoflowering strain of cannabis.
Why are light schedules important anyway?
Pictures of Auto-Flowering Plants
Frost must be avoided at all costs. Typically, most growers begin planting when spring is just around the corner. Depending on where you live, you can plant the seeds as soon as the frost clears. If you reside in a location that doesn't receive any snow, go ahead and plant when the temperatures range between 22°C to 28°C (71°F to 77°F).
2. Time it right
If you don't want to bother about fertilizing at all, you can even try growing autoflowers organically. There are various ways to make your own organic soil, but you can buy some in your local store to start with. Organic soil is premised with nutrients, so it's ideal for someone that doesn't have a lot of time. For growers that don't mind putting in the efforts, composting and building super soil is the best soil mix for autoflowers.
4. Choose the right medium
Enzo Schillaci