Commercially – grown marijuana or those grown by seasoned growers are typically regular flowering marijuanas plants. More specifically, they are photoperiod cannabis. These, under the right growing conditions, are the giants of the pot world– with the potential to grow 16 feet (or taller) and harvest 10 pounds of dried pot off a single plant.
Cannabis genetics are important to consider when planning your grow. Most cannabis consumers are familiar with the idea of Cannabis indica vs. Cannabis sativa . They understand how an indica -dominant strain is typically more relaxing and that sativa -dominant strains are known for their abilities to energize the mind and aid your creativity superpowers.
By far, the easiest and cheapest plant to grow for beginner growers is autoflowering cannabis . It comes from the species Cannabis ruderalis . This type of cannabis flowers, as the name suggests, automatically.
Step 1 – Pick the Best Marijuana Seeds for You
The key difference between autoflowering and regular flowering cannabis is how (and when) the plant's flowering cycle begins. Simply put, autoflowering cannabis automatically starts its flowering cycle, while photoperiod waits for the correct light vs. dark period (12 hours light / 12 hours dark) to flower.
Take it from a seasoned grower: If this is your first time learning how to grow, autoflowering strains are more stress-free, cheaper, and easier to maintain. Autoflowering cannabis seeds are the best way to grow yourself some weed at home — without all the fuss.
And there are grow kits that make it easy and accessible. The truth is that there are more ways to cultivate cannabis than there are names for the plant. And every method can grow great, healthy plants. For example, hydroponics might yield more , while soil will grow stronger buds, aeroponics will grow the fastest, and there's no replacement for growing marijuana outdoors. It's as easy to overload yourself with options as it is to add too much fertilizer to your nutrient mix. Below, we describe how to do it naturally and with little work on the grower's part.
Steps to Growing Your Own Pot
Of course, if you can't be bothered to read this entire guide, check out aPotforPot.com . They have a complete marijuana grow kit designed to make the weed farming life easy for you. Get started immediately, and if you get lost during your grow, email the stellar support team for a helping hand at [email protected] .
Once the cannabis plant is a few feet tall, or about 30 days after she pops out of the dirt, she starts her flowering cycle. Autoflowering cannabis is typically ready to harvest in 80 days from seed— regardless of her light schedule. This means the autoflowering cannabis growing season is year-round! Autoflowering cannabis seamlessly integrates into your home and plant family. Make it easy on yourself and go this route.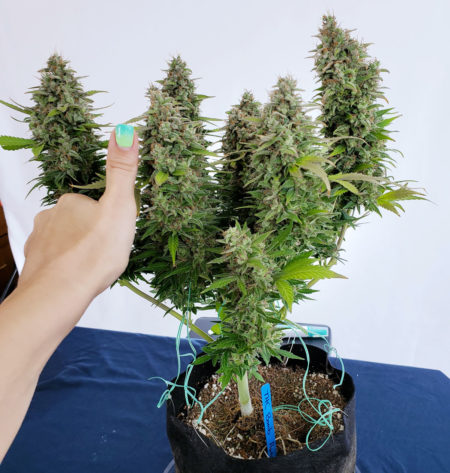 Auto-flowering strains start making buds in about 3-4 weeks from germination and are typically ready to harvest in 2-3 months. Due to this quick life cycle, nearly all auto-flowering strains stay on the smaller size. However, look for autoflowering strains listed as being short if you want the smallest possible plants.
Quick Summary (how to keep plants small without sacrificing yields)
1.) Genetics
1.) Genetics
Amnesia responds well to plant training such as being manifolded