One of the best activated carbon filters is the Anti-odor Filter Mountain Air, which is so efficient that it has won prizes for it. These high quality filters made in Canada can filter almost 100% or any aromas thanks to its high quality activated carbon and its innovative design and shape. They usually last for about two years, depending on how intensely you plan on growing cannabis. These filters are perfectly safe and eco-friendly.
Before you actually start growing cannabis indoors you'll need to make sure that air gets in and out exactly where it's supposed to; any leaks would be disastrous and would defeat the point of hiding the smell. Once you've checked everything and set up your filtration system (which needs to be strong enough to filter the amount of air in your grow tent or room) you need to make sure that your extractor and air intake system is creating negative pressure, which makes sure that all of the air inside the tent or room will be sucked out via your extractor fan rather than leaking out anywhere else.
ONA gel products can be used inside cannabis grow rooms or tents without damaging the plants at all. These products are generally used to back-up carbon filters by placing them inside your ducting. They're also used to camouflage the aroma when drying cannabis or for areas near your grow room like the hall or your garage. You can also acquire sprayers and the like so that you get the absolute most out of it.
Odor neutralizers
On the one hand you can use air fresheners or odor neutralizers, which can be found in gel or liquid format and are generally used as an extra measure – they usually aren't potent enough to do the entire job themselves when plants are in bloom. On the other hand you can also use activated carbon filters, which usually come in fabric or metal casings and are used by attaching them to your extraction fan system; they can filter up to 90% of all odors. Last, but not least, you can also use an ozone generator, which is also installed to your extraction ducting, however you must not let the ozone come into contact with your plants.
Odor Filter + Two Gels; This method involves installing a metal activated carbon filter in your ducting system and using two gels for extra precaution; one at the entrance to your house and another inside the ducting right before your extractor fan.
How to Hide the Smell of Growing Weed Indoors | Before growing
Odor filter + Neutralizer + Gel; You can install an activated carbon filter, odor-killing gel inside your ducting about a meter away from the extraction fan outlet and a Neutralizer at the entrance to your house.
Ozone generators are some of the most effective devices when it comes to getting rid of the smell of cannabis in grow rooms. They're capable of destroying odor particles one by one, as well as any type of fungi or bacteria in the environment. When used, you need to take extreme care and make sure that no ozone gets out of its contained area in your ducting; it's incredibly devastating for your plants and even for people.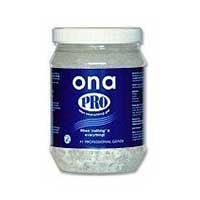 Therefore, while air purifiers may be a good choice for other reasons, I do not recommend getting one just to try to get rid of smells in your grow room.
Example of a carbon filter set up in a grow tent – this device scrubs all smells from the air so odors never leak outside the tent
There really aren't a lot of options when it comes to stopping smells in the grow room. Either you find a way to "scrub" the smells out of the air, or you find a way to cover up the smell.
Some growers claim to have safer ways to use ozone in their grows, such as venting ozone out of the house or making sure ozone only goes into the exhaust. Again, we would strongly recommend against using ozone since in the best case, it's only doing what a carbon scrubber can do. In the worst case, it's hurting the lungs of you, your pets and your family!
How to Find & Install The Right Carbon Filter
Although some growers claim that ozone generators are the best means of eliminating odor, at GrowWeedEasy.com, we strongly recommend against having one in your grow room.
A grow room with flowering marijuana plants is a factory for that delicious tell-tale smell, and to protect your girls, you'll have to make that smell a non-issue.
Recommended Marijuana Odor Neutralizer – Ona Products
Warning: Never spray any odor neutralizer near your plants in the flowering stage or the smell can stick to the buds!
Ona Gel and Ona Blocks were originally developed to control the smell inside sewage facilities. They are now available to consumers because they are remarkably effective at neutralizing odors.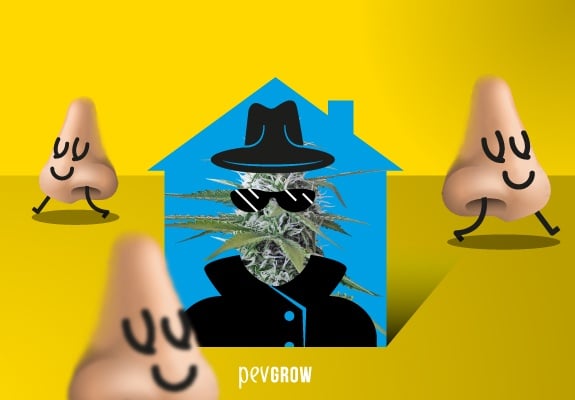 Many marijuana growers opt for the more homemade methods, as they work and disguise the smell of cannabis to a high degree and do not need to spend money on other products, however when they decide to choose these methods, the plantations they have are usually a smaller size. Below I will show you some more homemade methods with which you can save "a little bit" if you have an indoor cannabis crop of a small size.
Homemade methods of concealing the smell of marijuana
In the manual systems that we have mentioned before you can use natural gels that you can create yourself at home, but in our online store, you can find some air fresheners and artificial sprays that you can use to camouflage the smell of cannabis.
HEPA filters

A glass of vinegar : It is known that the smell of vinegar is very strong and therefore is also a good option if you choose a homemade method, the strong smell of vinegar hides very well the smell of marijuana, for this to happen you must put a glass next to the plantation and like the technique of lemon and nails, you have to remember to change the glass of vinegar every two or three days so that the properties are not lost and the smell of marijuana does not prevail.