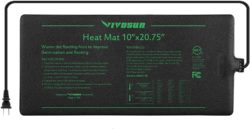 Seedling heat mat to keep seedlings warm (or any surface that's about 70-85°F or 20-30°C)
Supplies
With a single sheet on top, you can still mostly see the seeds
2.) Label the Strains
If growing more than one strain at a time, label the paper towels so you'll know which seed is which.
When the seedling stems reach two to four inches in height, it's time to transplant your cannabis into larger pots with more room for roots to spread down and out. After you've done this, you've successfully germinated your cannabis seeds into proper, young plants.
While many plants can be germinated in the ground, cannabis seeds are fragile enough that you should germinate them before planting.
First, make sure you use the correct type of soil, either gently fertilized potting soil or a seed starter with a pH level of approximately six (6). The soil contains the right acidity and enough nutrients to strengthen your young cannabis plants for the first two weeks. Be careful not to add more nutrients, or you risk overfeeding and killing your seeds.
Image lightbox
To germinate seeds this way, lay one paper towel on top of a countertop, place a few seeds, and cover them with a second paper towel.
Germination is the process that brings a cannabis seed out of its hibernation period and starts the cannabis growth process. Photo by: Gina Coleman/Weedmaps
How do you germinate seeds indoors?
Whether you're planning an indoor cultivation or outdoor grow, it's best to germinate your seeds indoors. It's easier to maintain proper temperature, light exposure, and moisture inside, and you can protect your seeds from the elements. Indoor germination, whether using soil or paper towels, will ensure your cannabis seeds have the best chance for survival.
The paper towel method is also a common way cultivators pop their seeds. Some even use this method with cotton pads instead of paper towels, but the necessary steps are the same.