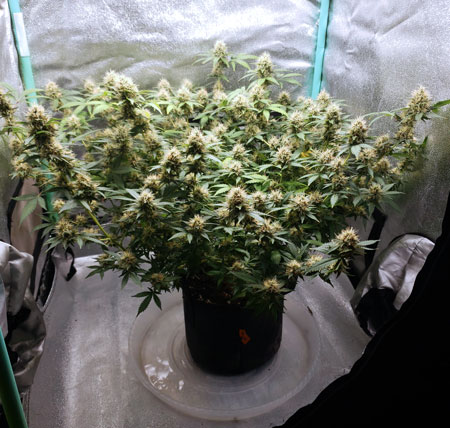 How Far to Keep from Plants: 32″ is the recommended starting distance from the plants.
Grow Space: 2.5×2.5' coverage at 34" (suitable for vegetative stage) and 2×2' coverage at 26" (suitable for flowering stage)
Spider LED
This cola was produced under a ViparSpectra PAR600 LED grow light
More About Growing with LEDs
Quantum Board
Grow Space: 3'x4′ or 3'x5′
The main problem with HPS lights (and other high-intensity discharge / HID lights) is that they end up wasting up to 60% of the energy they consume solely on heat output. In other words, if you're using a 1000W HPS light to grow indoors, only 400W of that energy is being used for plant growth – the other 600W is being wasted, draining money from your pocket.
The idea that we need 1000 watts to grow hemp comes from the days when it was common to use High Pressure Sodium (HPS) lights to grow anything indoors. At the time, HPS lights were the only decent artificial light source on the market, and a 1000 watt light was necessary for a sufficient photosynthetic light spectrum.
Where the myth that you need 1000W to grow hemp comes from
Those 400W are also giving you a fairly narrow grow light spectrum, so your plants end up not getting the amount of proper light they need.
A lot of people believe that you need a 1000 watt artificial light to grow hemp indoors. The reality is, you can successfully grow medicinal herbs with far less wattage, saving you money on your electricity bill while growing healthier plants. So, how much wattage do you really need to grow indoors?
Do you need 1000W to grow indoors? Not with LED Habitats Grow Lights
You can use a PAR meter to determine your grow light's intensity in ?mol for light spectrum between 400-700 nanometers (nm) – in other words, for any light spectrum that's suitable for growing plants.