Now bury so the base of its stalk is level with the topsoil. Give it a watering to set the roots in the ground, then hold off watering until you pick up the pot and it feels light in weight.
Organic Cannabis Soil Recipe
Avoid Common Mistakes
Suddenly, before your very eyes, the plant will transform. She will grow in height and branch out, putting off leaves and a network of branches. It is your job as the grower to meet her needs so that she can reach her full potential. With a good grow kit, this means as much light as possible and lightly watering only when she is thirsty.
6) First Cannabis Seedling Leaves & Hardening Off
About 10 days after germination, when the baby cannabis plant has hardened off, roots will start emerging from the bottom of your seedling pellet and the plant is ready to be transplanted into a bigger pot. Be very careful not to damage the roots during this stage. Any stress will slow its growth.
Damping off happens when the seedling is in too moist of an environment. The young plant's immune system is not strong enough to ward off a fungus that results in the plant rotting from the bottom of the stem. When this happens, the plant will bend over and die if not treated. To help fight the infection, lightly spray a 0.5% solution of hydrogen peroxide around the affected area. However, the best option is to avoid this by not exposing your seedling to too much moisture.
To accelerate germination, soak your seed in a small container with lukewarm water and place it in a dark and warm place (like a kitchen cabinet) for 12-24 hours, but no longer. By drenching the seed, it absorbs the water thoroughly, activating the germination process on a physical and chemical level. Doing this helps to loosen the shell as it becomes a little softer making it easier for the embryo to crack it open. When your seed sinks to the bottom, it is ready to be planted, and sometimes the seed will pop out a small taproot. A seed can still be planted though if it does not sink or put out a taproot. When a seed pops a taproot (often called a tail), it becomes more vulnerable and it is better to plant it before this root emerges.
2) Planting Your Weed Seed
Raising a cannabis seedling , however, requires some patience, gentle hands, and a smidgen of luck. Thankfully pot seeds are remarkably vigorous because they are what's called endosperm seeds , which means they have almost pre-formed cotyledon leaves before you even add water. Below is a brief guide on the techniques we have found yield the most success when starting seeds and raising your seedling to a healthy plant ready for transplanting. And, don't forget, a Pot for Pot's Complete Grow Kits take the guesswork out so you always wind up with a splendid harvest!
Dig a small hole in your bigger pot for the seedling, sprinkle some rooting booster in the bottom of the hole then carefully plant the whole seedling pellet holding your weed baby.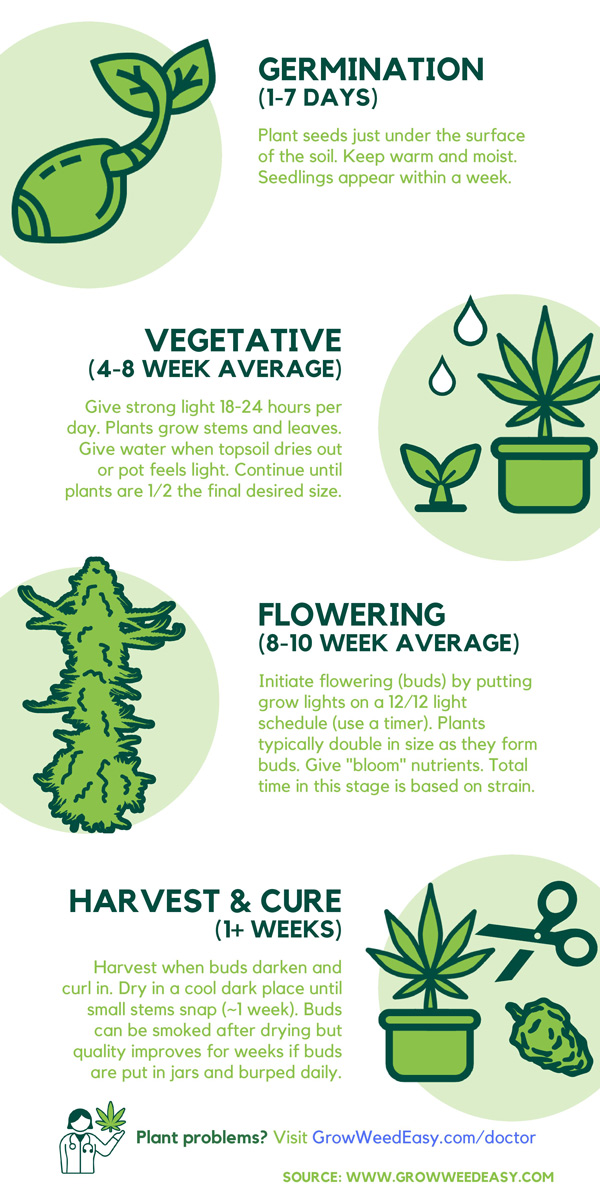 The Average Indoor Cannabis Grow Takes 3-5 Months
Before You Start Growing Weed
These cannabis plants were vegetated for about 8 weeks before being flipped to the flowering stage. Although they were grown in the exact same conditions from seed to harvest, their final heights are remarkably different because their strains had vastly different genetics. The smaller plant produced 6.6 ounces, while the big plant produced 9.3 ounces. Strain can make a big difference! Learn about growing different strains together.
Time Needed to Grow Weed, From Seedling to Harvest
This article will give you the total time breakdown, so you can plan out the details of your grow in order to achieve the harvest times you desire: