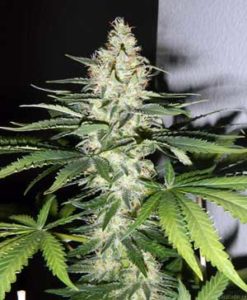 Total Time to Grow (and Be Ready to Use) Your Own Weed:
8 weeks – 5+ Months
Note: When growing cannabis indoors, it takes 3-5 months on average to go through the life cycle of a plant. When growing outdoors, the total time depends on your local climate as most strains are ready to harvest in mid-to-late Autumn.
Flowering Stage
Flowering Stage: (average 8-10 weeks, length depends on the strain/genetics)
Total post-harvest time needed: 2.5 weeks – 1.5+ months
Time Needed to Grow Weed, From Seedling to Harvest
The length of time needed to stay in the flowering stage depends heavily on the strain. Once you have switched your plant into the flowering stage they will stretch (the 'flowering stretch'), form buds and then fatten.
Frisian Dew plant growing outdoors with deep purple buds
This marijuana plant spent about 6 weeks in the vegetative stage before being changed over to flowering and yielded just over 6 ounces at harvest. View the complete grow journal with instructions on how to grow your plant so it looks just like this at harvest!
Before You Start Growing Weed
Here's the breakdown…
Some people put their seedlings or clones right into the flowering stage if they want to harvest quickly though this makes for extremely small plants. For example, super-stealth growers who are growing in small hidden spaces – like out of a computer case – would want to put their seedlings into flowering nearly right away to keep their plants as small as possible. It's also important to remember that container size and grow lights make a big difference. Small containers constrain the roots and keep plants from getting as big as they could, and small lights prevent buds from fattening up as much as they could.
How to grow marijuana as quickly as possible:
Important Milestones in the Marijuana Plant's Life
Long Anwer:
This gives you the freedom to choose the exact strain you want without any worry about how long it will take. This gives you the freedom to grow some strains that otherwise are inaccessible to growers who are worried about timeframes.
3-5+ months from seed to harvest