Today, it's not as easy as taking a joyride around your town to find wild weed, but it can be done with a little hard work, patience, and perseverance. Along the side of the road in the country. In a long neglected open patch of field. Amongst wild plants growing in the mountainside. Cannabis can be found in the unlikeliest of places.
Wild cannabis can be found nearly anywhere, but prefers some climates over others. Your best bet is to look in areas with warmer climates and plenty of humidity such as tropical environments. However, cannabis can also be found in cool and dry climates, too. In fact, cannabis is thought to have originated near the cold climate of the Himalayan mountains.
Over the years, it's been linked with high-THC cannabis and hundreds of millions of dollars have been spent to eradicate it in the US.
Today, it is widely used for its therapeutic benefits. But not all weed is the same. A feral form that grows in the wild has low traces of THC and won't get users high. So, where exactly does this feral weed grow that doesn't need careful tending? Let us find out.
Become a Cannabis Expert
Join tens of thousands of other students and alumni who have invested in a cannabis education. For an affordable price, you can gain access to up-to-date information about cannabis laws, research, and trends to make you a cannabis expert.
Ditchweed is thought to have spread from previously planted hemp back in the day. Since it hasn't been consciously planted, it doesn't have the high resin content of commercially-grown weed.
In the mid-twentieth century, this type of low-THC cannabis was widely grown in the Midwest of the United States. Industrial hemp is a variety of cannabis used for its fiber from its stalk for textiles, paper, clothing, rope, and more, primarily to help during World War II.
How to Find Wild Weed
Are you interested in learning more about the cannabis plant and its many benefits? Whether you want to learn how to grow cannabis for the first time, want to use medical cannabis to treat a medical condition, or want to start your own cannabis business, Cannabis Training University is here to help!
Weed grows naturally all over the world. From the cold-weather mountainside of the Himalayas to the warm and humid climes of Mexico and Jamaica, cannabis can survive under a variety of environments, although better in some than others.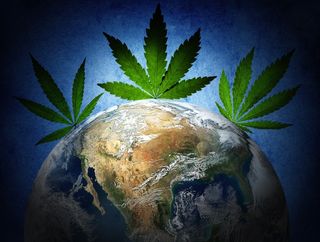 "The idea that this is an evil drug is a very recent construction," and the fact that it is illegal is a "historical anomaly," Warf said. Marijuana has been legal in many regions of the world for most of its history.
Burned cannabis seeds have also been found in kurgan burial mounds in Siberia dating back to 3,000 B.C., and some of the tombs of noble people buried in Xinjiang region of China and Siberia around 2500 B.C. have included large quantities of mummified psychoactive marijuana.
Over the next centuries, cannabis migrated to various regions of the world, traveling through Africa, reaching South America in the 19th century and being carried north afterwards, eventually reaching North America.