Your review on High Noon Irish Cream
100% recommends High Noon Irish Cream
Was this review helpful to you? yes no
What do people have to say about High Noon Irish Cream? Read reviews on High Noon Irish Cream and know what High Noon Irish Cream is all about. Do you have experience with High Noon Irish Cream? Write your own review and help other people out!
Was this review helpful to you? yes no
The last few weeks I've gone through almost an OZ of this. Among all the strains I've been enjoying lately this is one of my new favorites. One bowl of this Irish Cream and I feel like I'm lit for the first time again. Very instense cerebral effects that are almost overwhelming (which I love) and slowly eases into a heavy body buzz. Amazing for muscle pain, stomach issues, and it helped rid my migraine! So rad! ?
Last review on 2018-06-28
Share your thoughts on High Noon Irish Cream, write a review and help out others.
This dreamy smoke is flying off the shelves in Oregon & I doubt High Noon can grow it fast enough. Irish Cream's downtempo, relaxing effects are noticeably long-lasting. Great taste and aroma, with skunk/musk/spicy notes left on the palate after smoking. Clean-burning, bright white ash on the joint. Smooth draw, no coughing. The 2018 batches of this strain test between 27.7% – 31.88% THC depending on the batch, making Irish Cream a perfect choice for the distinguished smoker. Otherwise, it's definitely important to ease into this one so as not to melt your face. Irish Cream's effects are particularly long-lasting. While I generally feel the effects from a joint for about two hours, the same amount of Irish Cream flower produced effects lasting nearly twice as long, making this an exceptional strain for people like myself who treat chronic pain.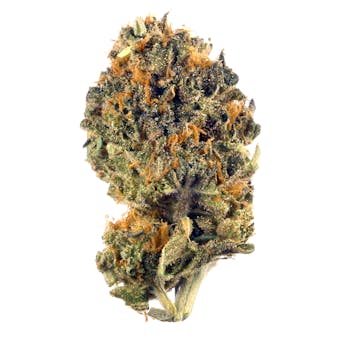 High Noon Irish Cream is a cross of The Real McCoy and Cookies & Cream. Created by High Noon Cultivation of Oregon, this selected phenotype expresses a balance of its parents' best traits. It has a sweet but sharp oil and skunky nose with underlying notes of peppercorn and spice. The bud structure gains its density and glistening trichome coverage from its frosty Cookies & Cream father. This strain's coloration spans many different shades of green that contrast against dark purple sugar leaves. High Noon Irish Cream's aroma is a vibrant and sweet bouquet of citrus that invigorates taste buds on the inhale. The effects of this well-balanced hybrid tend toward a stony, cerebral euphoria that is great for leisurely activities as well as relieving digestive discomfort and muscle soreness
High Noon Irish Cream is a cross of The Real McCoy and Cookies & Cream. Created by High Noon Cultivation of Oregon, this selected phenotype expresses a balance of its parents' best traits. It has a sweet but sharp oil and skunky nose with underlying notes of peppercorn and spice. The bud structure gains its density and glistening trichome coverage from its frosty Cookies & Cream father. This strain's coloration spans many different shades of green that contrast against dark purple sugar leaves. High Noon Irish Cream's aroma is a vibrant and sweet bouquet of citrus that invigorates taste buds on the inhale. The effects of this well-balanced hybrid tend toward a stony, cerebral euphoria that is great for leisurely activities as well as relieving digestive discomfort and muscle soreness