Personally, I just love the flowering stage. You can watch the buds develop, rewarding your hard work so far. Still, the flowering stage comes with its own particular risks. As your budding colas flower, the lovely aroma of fresh weed spreads. Of course, we don't want to share that with neighbours and passers-by. That stresses the need to use proper filtering with exhaust fans and carbon filters. Here's a helpful tip in case you can't control the stink, or if your power blacks out: always have a bottle of vinegar handy! In case of emergence, put a pan of vinegar on the cooker. Yes, it smells awful, but the vinegar stench will also neutralize the odour of your weed!
Looking for genuine first-hand grow expertise, sleeves rolled up and boots in the mud? You'll find plenty in our Nibameca blogs & grow guides ! Ever since discovering White Choco genetics, this cannaboss refuses to leave our AG grow program – and rightly so. This veteran grower is all about top quality, innovation and sustainability in indoor grow projects. This Amsterdam Genetics Grow Guru shares his experience with our readers to make the most out of every weed seed you'll ever plant!
As the flowering stage draws to a close, keep watching your trichomes. Trichomes are the little 'crystals' glittering on the buds and the small sugar leaves around them. In fact, they're not crystals, but resin glands. They hold all the active compounds we're after. Trichomes clearly indicate when it's harvest time.
Harvesting And Trimming
Personally, I prefer the following high success rate germination procedure. I take a glass of lukewarm water and gently chuck in the seeds. Then, I leave them alone someplace dark for 12 to 24 hours. I check them regularly: as soon as I see white tips (taproots) emerge, I carefully pick up the seed with a pincer. I place them root-down into a pre-watered grow plug. I use a water and root stimulator mix following user instructions. Then I put the plug and seed in my propagator and patiently wait for them to surface.
Once the seeds become seedlings, with roots showing on the sides and bottom of the grow plus (usually after about four days), they're ready for planting. I start with small P9 size flower pots. I'll leave them for 7 to 11 days to give the roots time to develop, creating a stable habitat.
Nibameca
Germinated and planted: your grow is good to go!
I hope I helped you make the best start at managing a first ever cannabis home grow! I wish growers all the best and lots of fun, as well as heaps of homegrown weed of course. Should anything go wrong along the way, then don't despair. I've run into some minor setbacks myself – and major ones too.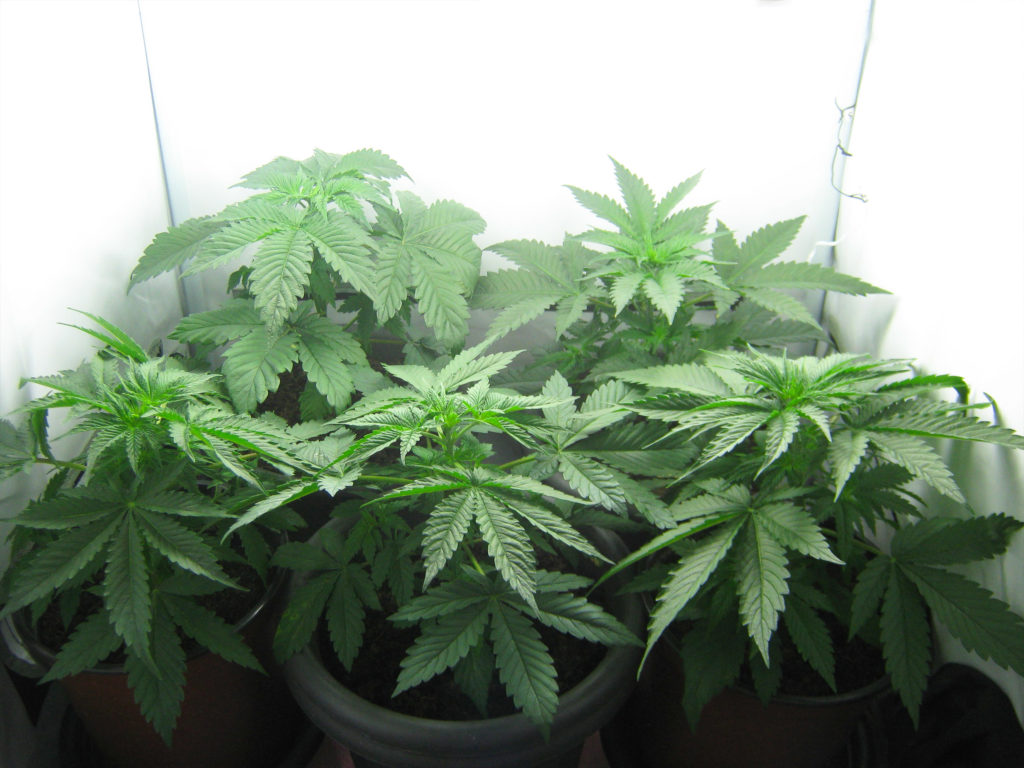 Have you ever heard of topping, super-cropping or lollipopping? Using these techniques you can train cannabis or manipulate the shape of the plant. Growers use them to develop stronger plants with more buds. Opinions vary, however, on whether these techniques actually deliver results. They are only necessary for special cultivation methods such as the Screen of Green (SCROG).
Cannabis is an annual plant, so its entire lifecycle takes place within a single year, with most varieties reaching the end of their life after between four and ten months. In general terms, the following four stages of life can be distinguished:
The germinated seed can now be placed carefully into the growing medium. The plant will start to grow and force its way upwards.
Leafy plants like a healthy soil that is rich in nutrients. The production of chlorophyll and proteins depends on a supply of nitrogen. It is worth investing in the right kinds of fertiliser or even producing them yourself.
Related post
A quick glance is usually enough to determine the current stage. Over time, it is not just the appearance of the plant that changes, its needs also change. Different stages require different quantities of light, water and nutrients. Furthermore, if you want to determine the sex of the plant or prune it, it is useful to know which stage the plant has currently reached.
All forms of life start from a seed of some kind. High-quality seed is the single most important factor for successful cultivation. Cannabis seeds should be hard, dry and brownish in colour. There are a number of different ways of getting the seeds to germinate. The easiest is the paper towel method.
How long the growth phase lasts is not a simple question to answer. Autoflowering cannabis varieties move automatically on to the flowering stage within 2 or 3 weeks. Regular or feminised varieties only start flowering once the days become shorter (outdoor cultivation) or the grower reduces the lighting period to 12 hours (indoor cultivation).
1 – Germination stage (1 to 2 weeks)
The leaflets are long and jagged. Initially a leaf has just one leaflet, although a mature cannabis plant will have five to seven leaflets per leaf.
Meanwhile the plant will grow its first "real" leaves with the characteristic marijuana shape.