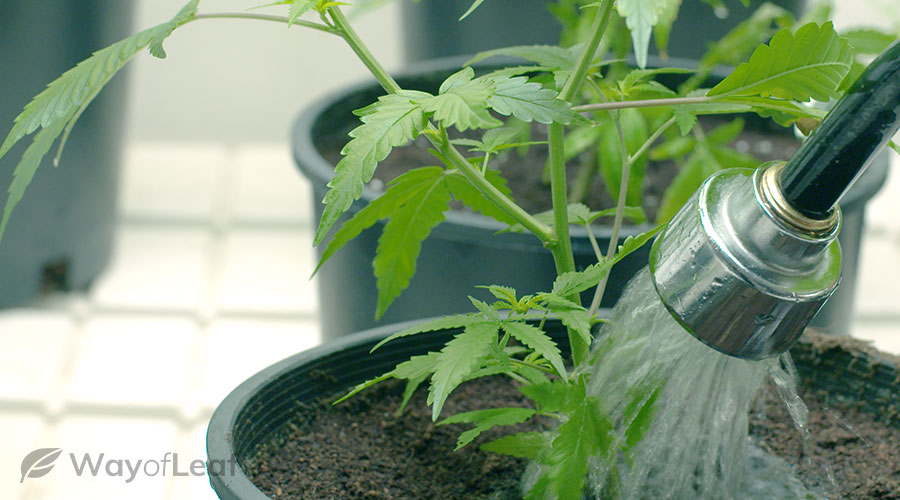 Homemade solutions for every g…
Garlic is useful for fighting beetles. Check your plants daily for signs of infestation and act immediately if you see any issues.
Outdoor cannabis growers face a significant disadvantage compared to their indoor growing counterparts; outdoor plants are vulnerable to inclement weather. Also, plants grown outdoors are susceptible to attack from pests and pets. Rapid changes in the weather can damage or even kill cannabis plants, while animals and aphids are a constant threat.
Protecting Your Marijuana Plant from Pets & Pests
Other signs that it is time to harvest include brown resin on the buds, a broader stem, and if the leaves of the plant begin to turn yellow and die back.
Even if it is legal to grow outdoors in your location, there will always be judgmental individuals and possible thieves. Try and plant your marijuana so that it is hidden behind tall fences or shrubs.
Protecting Your Weed from Rain & Wind
Homegrown CannabisCo are the masters when it comes to seeds. Offering a massive variety of cannabis seeds that are well categorized, not only does this company create a resource for superb quality options including feminized seeds, it also provides extensive growing information for those looking for some support along their journey.
Typically, seeds only begin to germinate when exposed to constant temperatures of 65 degrees Fahrenheit. Experts suggest keeping your plants indoors for up to four weeks before bringing them outside when the weather is more suitable.
Pests and wild plants are an inevitable occurrence when cultivating cannabis outdoors. Most issues can be avoided with proper planning. Clearing a buffer area around your plants can go a long way, but your first line of defense is a healthy plant that can defend itself naturally.
The amount of water a plant needs largely depends on its size, the size of its container, the soil type, and general environmental conditions such as the weather and the intensity of the sun. Larger plants in warmer environments tend to use more water than smaller plants in cooler weather. The amount of water needed will change throughout a plant's life cycle.
During the first half of the season, the daytime period increases until the summer solstice, which occurs in the Northern Hemisphere on or around June 21 and in the Southern Hemisphere on or around December 21. While the daylight hours increase, the plant's vegetative stage takes place. During vegetation, the plant will develop the roots and stems that will serve as the foundation for growth until flowering.
Container gardens can be convenient as they can be moved around the garden to maximize sunlight or protect them from harsh conditions Photo by: Gina Coleman/Weedmaps
Water
In the Northern Hemisphere, cannabis can be planted in early to mid-spring and harvested in mid-fall, depending on the cultivar. In the Southern Hemisphere, the growing season will be reversed with planting in early to mid-fall and harvesting in the middle of spring.
Container gardens can be convenient as plants can be moved around the garden to maximize sunlight or protect them from harsh conditions such as rain, heavy winds, or extreme temperatures.
While cultivars may vary, here are some general rules that will be useful no matter which one you choose.
Containers vs. in-ground
Some cannabis genetics have adapted to specific climates and are capable of growing more easily in certain conditions than others, so pay very close attention to the cultivars, or strains, that you choose. A little research will go a long way in ensuring you have a successful harvest.
Plants grown from seeds are typically heartier and more vigorous than clones, as they produce a sturdier taproot that clones are not able to replicate. The vigor that comes from deep roots can be an advantage when dealing with harsh environmental conditions and pest pressures. The disadvantages of growing seeds are the additional attention required to germinate the seeds, the necessity to eliminate any males before they pollinate the females, and the high variability in growth characteristics that results from their genes.