A decent ozone generator is the Uvonair generator, which uses a diffusor crown to produce ozone; you'll need to replace it every now and then. Like every other ozone generator on the market, you'll need to place it right before your extractor fan outlet. It should have at least 5m of ducting in front for it to work properly. In order to avoid issues with ozone leaks, we recommend using a non-return valve in between the extraction fan and the ozone generator. Place your intake fan on the opposite side to the extractor, down low.
When growing cannabis indoors it can seem like a losing battle when it comes to hiding the smell. Cannabis plants let off intensely pungent aromas when flowering, and these aromas can filter out and end up stinking up your entire building; in some cases it may even end up sticking up the block next to you too. This can obviously lead to issues with the law, as well as opportunistic thieves that want to get their hands on your plants. That's why you need to know the best tips and tricks regarding how to hide the smell of growing weed indoors.
If your grow tent walls seem to be filling up and expanding outwards your intake fan is much too strong and your extractor fan isn't strong enough to absorb all of the new air being taken into the tent. When growing in a room it's much harder to realize that this is an issue – you'll know when you start to small cannabis outside the room.
Carbon filters are classic cannabis filtering devices. Not all carbon filters work the same when it comes to filter power and lifespan; you may want to pick a high quality device – you may need to shell out a bit more money. You'll also need to pick one that's right for your extractor or else it won't work correctly.
Activated carbon filters
Neutralizers are products created from various different plant extracts and chemical products. They are capable of trapping, modifying or even destroying cannabis odor particles with incredibly efficiency. These types of products usually come with a small electric diffusor that is used to heat the mix and spray it around the room.
ONA gel products can be used inside cannabis grow rooms or tents without damaging the plants at all. These products are generally used to back-up carbon filters by placing them inside your ducting. They're also used to camouflage the aroma when drying cannabis or for areas near your grow room like the hall or your garage. You can also acquire sprayers and the like so that you get the absolute most out of it.
The Neutralizer is one of the best odor neutralizers that we stock. It's made from various different essential oils from aromatic plants and it modifies cannabis odor particles perfectly, capable of covering large areas effectively. It does not affect your plants' aroma and it's perfectly fine to breathe in.
How to Hide the Smell of Growing Weed Indoors | Before growing
Odor Filter + Two Gels; This method involves installing a metal activated carbon filter in your ducting system and using two gels for extra precaution; one at the entrance to your house and another inside the ducting right before your extractor fan.
One of the best anti-odor brands out there is called ONA; they produce many different products including air fresheners as well as products that can be sprayed to get rid of the smell of cannabis in a flash. They also come in blocks, which are more compact than the gel format, which slowly release a combination of pleasant, nice aromas that are perfectly safe.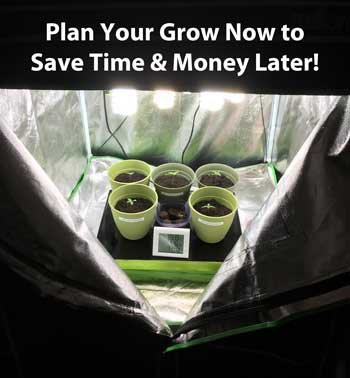 A smart grower puts a lot of effort into concealing their grow from the public. Even if you are growing medical marijuana and have gone through all the motions demanded of a legal pot farmer (and I still highly encourage you to do so), you don't want the whole world knowing what you are up to.
How will you discreetly move stuff (including plants and supplies) in and out of the grow space?
If you're doing this, make sure to check out the gaps between your ceiling beams ahead of time to make sure you can run the ducting through without cutting through any important framework. Running ducting into the floor and under the house offers another option (if you don't mind a little tangling with cobwebs). If you happen to have a convenient chimney near your grow spot, that can also be a lucky option. Always get a second opinion regarding safety if you're making any structural changes to your home.
Good soil for cannabis relies on a healthy population of mycorrhizae and soil bacteria to facilitate the conversion of organic matter into nutrients that a plant can use. Alternately, you can use a regular soil mix and then supplement your plants with liquid nutrients.
Here are some ways to mitigate odor when growing weed indoors.
These are quickly becoming the standard. Roots in fabric pots grow to the outer edges and attempt to bypass the porous fabric wall but are cut back, allowing new growth to occur. This process, called "air pruning," results in a denser root composition which promotes healthy growth and development.
Finding the right soil for cannabis
Fluorescent light fixtures, particularly those using high-output T5 bulbs, are quite popular with small-scale cannabis growers because:
For a root system to develop and thrive, they will need the following:
Check temperature and humidity levels
While shopping for soil, you might be overwhelmed by the options available at your local garden store. The soil type is the basic structure of your soil. From there, look at nutrients, microorganisms, and other amendments that improve the soil. Your choices will be flooded with words like:
You will definitely want to invest in a timer for your lights. Because the amount of light a plant receives dictates its vegetative or flowering stage, it's important to give it a consistent amount of light every day, and that's done with a timer. It's a good idea to check your timer at least once a week to make sure it's working properly.