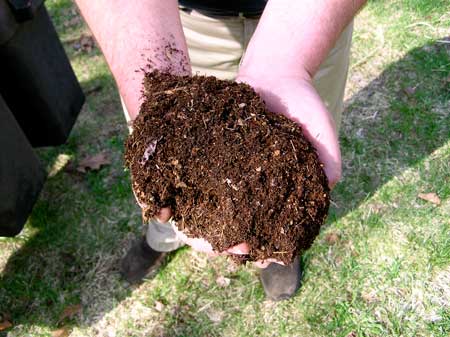 Now here are a few examples of good and bad cannabis soil so you can see the texture you're looking for!
This is what kind of soil to get if you don't have any "good" soil available, but want something that is known to work for growing cannabis.
Example of "Good" Cannabis Soil Ingredients
When cannabis growers talk about "super" soil, they're usually referring to soil that has been amended with slow-releasing organic nutrient sources, and then composted for several months (learn more about super soil).
The composting process creates a "living" soil that is full of microorganisms in the rhizosphere (area around the roots). Properly composted soil has nutrient sources that slowly break down over the course of your plant's lifecycle. It very closely mimics what happens in nature.
Organic Potting Mix
In order for a cannabis plant to grow and thrive, it needs a good mix of both water and oxygen at the roots at all times! Too much water and the plant roots can't get enough oxygen (lack of oxygen at the roots is why plants get droopy from overwatering) but on the flip side if there's not enough water retention the roots can be injured from drying out too quickly!
Silt soils have lots of minerals and retain moisture well. Like clay, however, this type of soil can become compacted and hard in certain conditions. It can also form a crust, making it difficult for moisture and nutrients to reach plants' roots.
You will want to provide the proper amount of light and water to your plants, of course. A drip irrigation system can cut your water bills while improving the health of your plants. Kits are available that give you everything you need to get started. If you prefer, you can start from scratch and obtain separate components to put them all together.
Soil Types
Test kits are available to measure your soil's acidity, or you can take a sample to your friendly local extension agent. If your dirt does not have the proper acidity, soil amendments are available to lower or raise the pH level in your soil. Your local nursery, garden store or extension agent can make some suggestions.
Loam is ideal for containers as well as for outdoor growing. Unfortunately, it is usually the most expensive soil to buy. But if you are interested in growing the best plants possible, it can pay big dividends in the long run.
You can also build up your own loam soil by adding organic matter to it. If you have a compost bin, you can use the compost to improve your soil. This will be a time-consuming and ongoing process but with grit and persistence will pay off in the long run.
Loam for Growing Marijuana & Other Crops
In addition, you do not necessarily have to provide costly soil for your plants outside. But for the best results, you want good marijuana soil that will help your plants grow healthy and happy. DripWorks is here to offer you a few simple tips for finding and creating the best soil for growing marijuana outdoors.