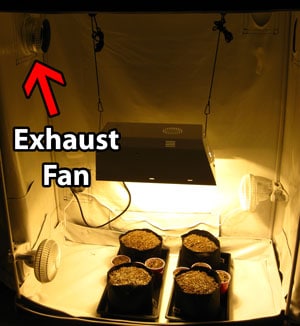 Short spaces are difficult to grow in because you have to worry about your plant "growing into" the grow light. A 5′ tall tent will support up to a 400W, though more height makes things a little easier. Having an area that is 7′ tall makes it much less likely you'll ever be limited by the height of your grow space. Even a little extra height can increase your yields in some cases because a taller space lets you support more powerful grow lights and grow larger plants.
The best way to hang your grow light is using rope ratchets if you can; they are cheap and easy to set up. Rope ratchets make it incredibly simple to adjust your lights at any time without the chance of dropping the light on your plants. Sometimes it's helpful to be able to quickly put lights up or down, whether you want better access to the back of the tent without the light beaming on your head, or even just to take better pictures of your plants. Make sure whatever you use to secure the lights (rope ratchets!) can handle at least twice te amount of your light just to be safe!
Pros of Growing Cannabis in a Grow Tent
Although some grower don't use a carbon filter, they can unintentionally be making a trail that leads straight to their grow. Carbon filters ensure there are no smells whatsoever getting where they aren't supposed to be in addition to providing peace of mind!
There are quite a few differences to be sure, but which is best?
Winner: Outdoors
For pure quality and growing quickly, then an indoor grow is 100% the way to go. The amount of control of the environment manifests itself in multiple different, positive ways throughout an indoor grow operation and is highly recommended if budget and space allows it.
Winner: Indoor
As long as the climate is correct, outdoor grows do not have this issue at all. There's some amount of care that should be given to plants to avoid male plants fertilizing the crop and general health-maintenance in case of parasitic bug infestation, but all this is true for indoor grows as well.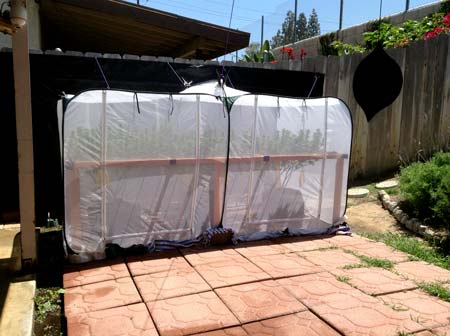 Gentle Breeze
Some growers put plants in a greenhouse or other outdoor structure that lets light in but obscures the inside from view.
If it gets very extremely hot where you live, you want to consider making sure there's a way to at least partially shade your plants on the hottest days. Learn how to care for heat-stressed outdoor marijuana plants.
I've heard a grower say to securely leave a twenty-dollar bill in a few places around the chosen area, where they can be easily seen by a human but won't blow away. If they are still there when you get back after a week or two, it's unlikely there are many people passing by because they would have picked up the money.
Easy to Visit
Think about looking into your yard from outside the grow space. You want to go outside and make sure that plants are not visible from someone's window, from the street, a neighbor's yard, etc.
This marijuana plant has been placed in the middle of an area that naturally has lots of trees and other types of vegetation.
Auto-flowering strains can be a good choice for growers with short summers because they are typically ready to harvest just 3 months from germination. However, there are also many 'standard" (non-auto-flowering) strains with short flowering periods that only need 3-4 months before they're ready to harvest.
Don't Forget Nutrients