Different lights produce different colors of light. Here's a brief rundown of the most popular types of cannabis grow lights used for indoor growing.
Indoor climate
Plants need fresh air to thrive and carbon dioxide (CO2) is essential to the process of photosynthesis. This means you will need a steady stream of air flowing through your grow room, which will allow you to move hot air out of the space and bring cool air in.
Air circulation
You'll need a dedicated space for your marijuana plants—you won't be able to move them around. Ideally, the space is next to a window so you can vent air from the grow space outside. Growing weed plants smell! Especially when flowering kicks in, you'll want to redirect air so your house doesn't reek of weed.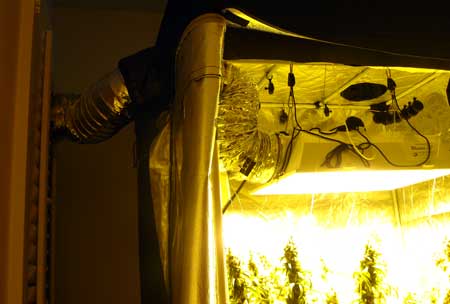 No matter how you end up doing it, the main idea is to ensure any air leaving the tent must first pass through this carbon filter.
If you've seen the examples and want to keep it simple and get a grow tent, here's more information on how they quickly create the perfect environment for your growing marijuana plants!
After everything is set up, turn on your grow light and exhaust fan for a day to test out your new space.
Some grow tents don't look particularly suspicious. On the left is a homemade stealth grow cabinet and on the right is a 2'x4'x5′ grow tent that looks vaguely like a clothes wardrobe. They're just about equally nondescript!
The best way to hang your grow light is using rope ratchets if you can; they are cheap and easy to set up. Rope ratchets make it incredibly simple to adjust your lights at any time without the chance of dropping the light on your plants. Sometimes it's helpful to be able to quickly put lights up or down, whether you want better access to the back of the tent without the light beaming on your head, or even just to take better pictures of your plants. Make sure whatever you use to secure the lights (rope ratchets!) can handle at least twice te amount of your light just to be safe!
What Size Grow Tent?
Grow tents are designed to keep things simple for hobbyist cannabis growers. As convenient as grow tents are, they're not designed for huge marijuana grow operations! But for someone who wants 1-5 ounces/month, a grow tent may be the best way to go!
Short spaces are difficult to grow in because you have to worry about your plant "growing into" the grow light. A 5′ tall tent will support up to a 400W, though more height makes things a little easier. Having an area that is 7′ tall makes it much less likely you'll ever be limited by the height of your grow space. Even a little extra height can increase your yields in some cases because a taller space lets you support more powerful grow lights and grow larger plants.
Here are five more reasons to grow marijuana in a grow tent:
Why Use a Grow Tent?
Like the others on this list, this tent uses 6000D material, which is light-proof and tear-proof, and its zippers have privacy flaps. The tent's interior lining is mylar. CoolGrow's grow tent structure consists of sturdy metal poles, bars, and metal connectors, all of which make the tent super sturdy. The grow tent also has a window for plant observation.
Planning the Easiest Indoor Marijuana Garden
Using a grow tent lets you grow year-round without worrying about the seasons. When using a tent, your grow lights provide enough light to stimulate photosynthesis. No more waiting for Spring! Grow tents make it easy for marijuana plants to grow and flourish at any time of the year.