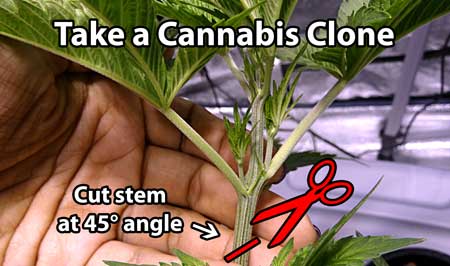 Leave your grow lights on an 18/6 (Light/Dark) for your new clones. Don't give new clones 24 hours of light, without any dark periods. This can slow down the rooting process. Rooting seems to happen best when there's some amount of darkness each day.
This is why many growers buy cloners, or a tray with a humidity dome (a clear plastic top to put over their plants), since they will keep your cuttings nice and moist for you and practically automate the whole process. However, with a humidity dome, it's extra important to keep an eye out for mold.
5.) Take clones off the bottom of the plant for faster rooting, off the top of the plant for faster flowering
Cloning Grow Lights
Although you can identify the gender of a cannabis plant when it's just 3-6 weeks old from seed, you may choose to clone your plant earlier, and therefore won't know the gender. To get around this, you can always take clones of all your plants right before you put them into the flowering stage. This will give you a "copy" just in case any of your plants end up blowing you away with their quality.
They can still become hermaphrodite if they are stressed, but out of the gate, you at least know that there are no males.
The Benefits to Starting with a Clone Instead of a Seed
After about 6 weeks of growth, the plant will usually show signs of "pre-flowers" (female) or seeds (male). This will alert you to the gender of the plant.
Why Growing Cannabis from Seed Is a Good Option
It's an important decision to make, because it is going to determine what timeline your garden is going to operate on, and largely influence the strategy you incorporate into your garden, especially if you plan on making clones to continue your cycle.