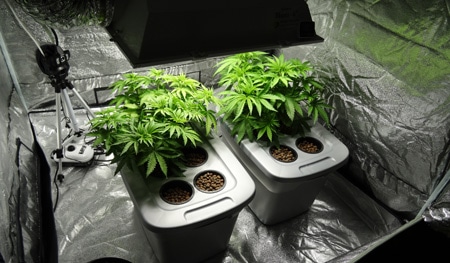 My second favorite germination method is the Paper Towel Method. It is simple but surprisingly effective at getting seedlings started fast.
When it comes to Deep Water Culture, the main difference if you're used to a hand-watered growing medium is you need to pay attention to the reservoir. Peeking into the reservoir through an empty net pot hole lets you ensure the roots look happy and that the water level inside is properly maintained. It's just like paying attention to your soil except that the conditions of water can change quite a bit faster. On the flip side, you have much greater control over the root environment in DWC than any other grow method!
This is low-stress training. The stems are gently bent away from each other and held with twist-tie.
3 of the seedlings from before have been culled, and now only the strongest plant from each strain remains.
I've already grown in soil. Do I need to be concerned with anything new when growing DWC?
Most definitely! Just make sure you don't have electronics/plugs/outlets directly on the ground. This is a rule for all grows, however.
Checking the pH can be boring/tedious, but it's also one of the most important factors in any grow, especially in DWC. Good pH management makes for pretty plants and bad pH makes for sickly plants. Think of pH adjustments like a supplement that makes your plants grow better and faster!
You want to keep your plants short, and should therefore start the flowering stage when your plants are around 1/2 of their final (desired) height. So, if you want cannabis plants with a final height of 48″, start flowering them when they are 24″ tall.
Answers to a few questions we get a lot:
Grow Lights:
The plants also get an added bonus of having some of this water pumped over the base of their roots. These two things make it so that your plants will grow MUCH faster than if they were in soil, coco coir, perlite, or pretty much any other medium.
Area Setup:
Bubbleponics/Top-fed DWC is basically the same thing as DWC except for one small, but important, addition. A small stream of that same aerated, pH-balanced nutrient water is trickled over the young roots of your cannabis plants. This encourages the roots to grow faster and reach the reservoir water in less time, making for faster growth during the first part of the vegetative period.