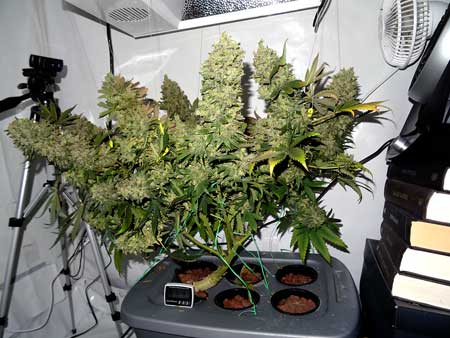 Differences Between Soil & Hydro
Today I'll teach you how to set up your hydroponic reservoir for growing cannabis, and I'll show you what you need to do each day for optimum growth
Hydroponics is when you grow your cannabis plant in an inert medium like coco or a reservoir of water, and provide all the nutrients to the plant directly in the water.
Nutrients will come either pre-mixed in a solution or in powder form. While powder form might be cheaper and less bulky, it is best to stick with liquid pre-mixed nutrients if you are a small-time grower as they mix with water easily and are more forgiving.
When growing hydroponically, you are responsible for providing all of the nutrients necessary for plants to survive. Nitrogen (N), Phosphorus (P), and Potassium (K) are the three essential nutrients for plant growth known as macronutrients. Additionally, there are secondary and micronutrients that will help the plant develop as well. These include Boron, Calcium, Copper, Iron, Magnesium, Sulfur, and Zinc.
There are numerous setups for growing hydroponically with varying benefits that were discussed previously here. And while there are several types of hydroponic setups that don't use any type of growing medium at all, many of them still use some sort of substrate to support root growth.
Browse Hydroponic Growing Supplies
Growing hydroponically does require that you invest a good amount of time and money into developing your system prior to actually starting your garden. Additionally, you'll want to make sure your system works effectively and your nutrients are high quality so that your plants will flourish. Once you gain a knack for hydroponics, you'll be on your way to producing world-class cannabis that is well worth the effort.
Next, you'll need to balance the pH level. Between 5.5 and 6 is ideal for cannabis to absorb the nutrients. If levels are off significantly, the plants will fail to uptake the nutrients and will suffer deficiencies.
Nutrients for Hydroponic Cannabis
Various materials all provide slightly different benefits and drawbacks, so some thought should be put into choosing the right medium for your cannabis plants. In this article, we are going to be utilizing the drip line hydroponics technique.
When mixing in nutrients, take a few measurements to make sure your solution is safe for the plants. First, make sure you have the right EC (electrical conductivity) reading, and secondly, ensure your pH reading is correct.